The 6th International Symposium of Innovative BioProduction Kobe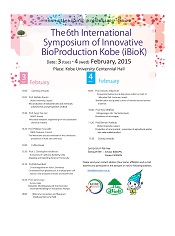 It is our great pleasure to announce the \"6th Internationalsymposium of innovative bio-production in Kobe\" (6th iBioK symposium) to be held in Kobe, Japan, from February 3rd-4th, 2015. "BioProduction" enables the creation of various kinds of fuels, chemicals, materials, food and medicine from biomass. In iBioK, we are conducting true cooperative researches by promoting systematic integration of education and research across various fields of study. The 6th iBioK symposium will highlight cutting-edge advances in the fields of Bioproduction as well as our developments.

You can easily feel our exciting research activities and established collaboration through iBioK symposium with the front-line researchers from all over the world.
We are very glad to accept your registration for our iBioK symposium, and we also hope you will enjoy iBioK symposium.

The information of 6th iBioK symposium is as follow.
Date
February3-4, 2015
Venue
Kobe University Centennial Hall [Campus Map No.37]
Symposium fee
Free
Banquet fee

Scholar 8000JPN
Student 5000JPN



Organized by

iBioK, supported by the Special Coordination Funds for Promoting Science and Technology, Creation of Innovation Centers for Advanced Interdisciplinary Research Areas, MEXT, Japan.
http://www.org.kobe-u.ac.jp/bioproduction/



Contact

Please send your contact address (Your name, affiliation and e-mail address and participate in the banquet or not) to following address;


ibiok@port.kobe-u. ac.jp
*To prevent malicious and automatic collection of e-mail addresses, we have inserted extra space before \"ac.jp.\" Please note that the space should be removed before e-mailing.