Workshop on Inclusive Sustainable Development in Asia ~Economy, Society, Human Development and Environment~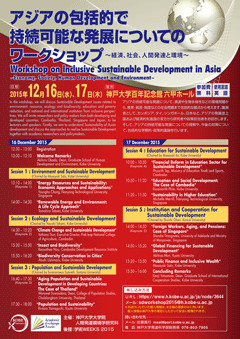 Aim of the workshop
In the workshop, we will discuss Sustainable Development issues related to environment, resource, ecology and biodiversity, education and poverty reduction, and national and international institution from inclusive perspectives. We will invite researchers and policy makers from both developing and developed countries; Cambodia, Thailand, Singapore and Japan, to be lecturers and speakers. Finally, we aim to understand Sustainability of Asian development and discuss the approaches to realize Sustainable Development together with academic researchers and policymakers.
Date

December 16-17, 2015



Venue

Kobe University Centennial Hall , Rokko Hall



Fee

Free



Organizer




Registration

Further information can be found in the following page.
(Graduate School of Human Development and Environment, Kobe University)