The 22nd Kobe University International Students' Symposium
December 18, 2016
Event
Keywords: Event, International relations, Students, Public dialogue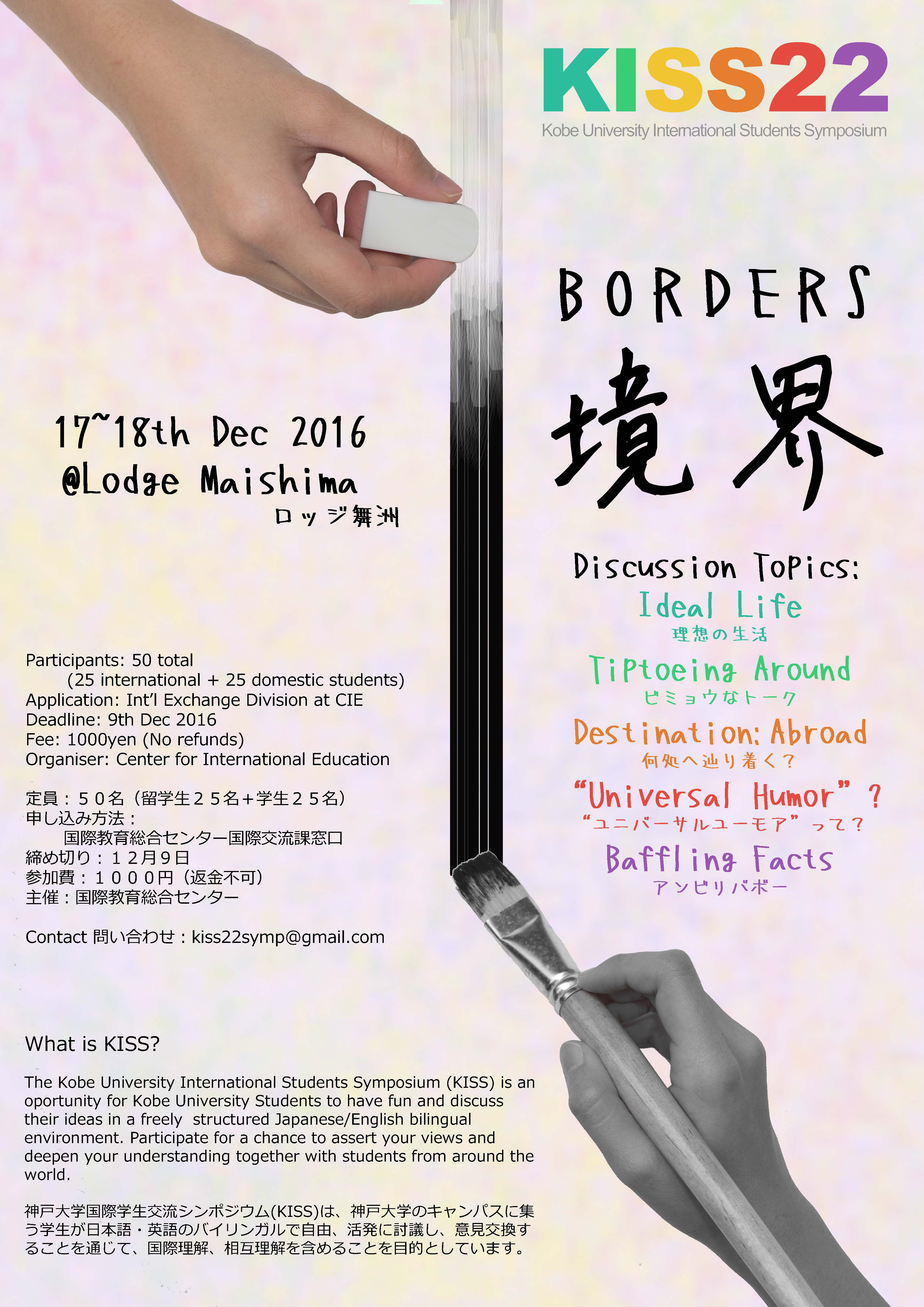 The Kobe University International Students' Symposium is an opportunity for Kobe University's students to discuss their ideas and opinions in a freely structured English/Japanese bilingual environment. Participate for a chance to assert your views and deepen your intercultural understanding together with students from Kobe University!
This year's theme is "BORDERS 境界"
Organisers: Kobe University Center for International Education
Date and Place: 2016/12/17 (Sat), 12/18 (Sun) Hotel Lodge Maishima 
http://www.lodge-maishima.com/
Number of Participants: 50 (25 for Int'l students/ 25 for Non-int'l students)
Space is limited, so reserve your place early!
Participation Fee: 1000 yen (Non-refundable, please pay when you register)
Application: Please register at the International Exchange Division inside the Center for International Education
Contact: kiss22symp [at] gmail.com
Application Deadline: 2016/12/9 (Fri)
(Please click the flyer to download the application form and event schedule)
Message from KISS 22 Organising Committee Leader
Dear participants,

"And then there were none".
It is often said that earth, seen from space, has no borders. Yet every day we experience some kind of obstacle that prevents our mutual understanding, whether it be by the way we look or by the ideals we have, and sometimes, we have trouble identifying and understanding them.
Have you ever felt such "Borders"? Come and share with us at KISS '22.
- KISS22 Organising Committee Leader ITO Sunao
(Center for International Education)