Global job fair for international students
April 7, 2017
Event
Keywords: Event, Recruitment, Students, Business, Society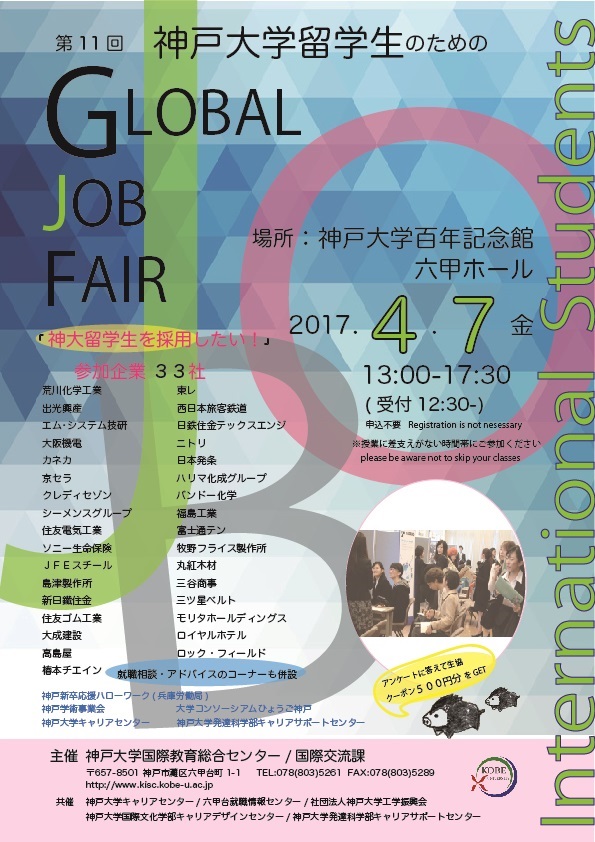 Kobe University will hold a global job fair on April 7, 2017 in the Centennial Hall (Rokko Hall) to support international students looking for Japan-based employment.
This event is organized by the Center for International Education and the International Exchange Division, with support from the Kobe University Career Center and other career advice organizations within the University. This is the 11th event in the series, and will be attended by 33 companies and supporting organizations such as the Hyogo Labor Bureau.
Each company attending will have a booth providing a company introduction, interview opportunities, and information about renewing work visas and internships for international students.
Date and time
April 7, 2017 (Friday) 13:00-17:30 (Reception from 12:30)
Venue
Kobe University Centennial Hall (Rokko Hall)
Eligibility
This event is open to all international students currently attending Kobe University. No application necessary. Please do not miss your classes to attend this event.

Participating companies

| | |
| --- | --- |
| Arakawa Chemical Industries, Ltd. | Idemitsu Kosan Co., Ltd. |
| M-System Co., Ltd. | Osaka Kiden Co., Ltd. |
| Kaneka Corporation | KYOCERA CORPORATION |
| Credit Saison Co., Ltd. | Siemens K.K. |
| Sumitomo Electric Industries, Ltd. | Sony Life Insurance Co., Ltd. |
| JFE Steel Corporation | Shimadzu Corporation |
| NIPPON STEEL & SUMITOMO METAL CORPORATION | Sumitomo Rubber Industries, Ltd. |
| Taisei Corporation | Takashimaya Company, Limited |
| TSUBAKIMOTO CHAIN CO. | Toray Industries, Inc. |
| West Japan Railway Company | NIPPON STEEL & SUMIKIN TEXENG. CO., LTD. |
| NITORI HOLDINGS | NHK SPRING CO., LTD. |
| Harima Chemicals Group, Inc. | Bando Chemical Industries, Ltd. |
| Fukushima Industries Corp | FUJITSU TEN LIMITED |
| MAKINO MILLING MACHINE CO., LTD. | MARUBENI LUMBER CO., LTD. |
| MITANI CORPORATION | Mitsuboshi Belting Ltd. |
| MORITA HOLDINGS CORPORATION | THE ROYAL HOTEL, LIMITED |
| ROCK FIELD CO., LTD. | |
Other participating organizations
Kobe Job Center for New Graduates (Hyogo Labor Bureau), Kobe Gakujutsu Jigyo-kai, The Consortium of Universities in Hyogo, Kobe University Career Center, Kobe University Faculty of Human Development Career Support Center
Organizers
Kobe University Center for International Education, International Exchange Division
Support
Kobe University Career Center, Rokkodai Career Information Center, Kobe University Technology Promotion Club, Kobe University Faculty of Intercultural Studies Career Design Center, Kobe University Faculty of Human Development Career Support Center
(Center for International Education)