EURAXESS Japan Tour 2017 @ Kobe University
September 19, 2017
Event
Keywords: Event, Grants & funding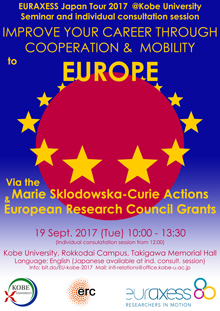 The fifth edition of the EURAXESS Japan Tour 2017 will take place at Kobe University on 19 September.
This will be a very special edition, featuring a session dedicated to European Research Council grants (including the newly launched Synergy Grants) by Dr Voilley, Research Programme Officer for the ERC in Brussels, Belgium.
In addition to that, the event will feature a detailed overview of the Marie Sklodowska Curie Actions grants for individual researchers at the pre- and post-doctoral level.
Pre-Registration is required for this seminar.
Date and time:
September 19, 2017 (Tuseday) 10:00-13:30
Place:
Kobe University, Rokkodai Campus, Takigawa Memorial Hall, Large Conference Room

Language:
English
More Info:
https://euraxess.ec.europa.eu/worldwide/japan/euraxess-japan-tour-2017-kobe-university
Pre-registration
In order to facilitate the preparations, pre-registration is required. Please send e-mail to the following address.
E-mail: intl-relations@ office.kobe-u. ac.jp
Note: to avoid spam, we have inserted spaces in the above address. Please remove the spaces before emailing us .
(International Affairs Planning Division)