2nd KU-FTU Cooperation Symposium
September 27, 2017
Event
Keywords: Event, International relations, Social sciences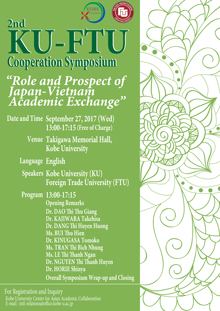 Building on the close partnership established at the Kickoff Symposium Establishing a Collaborative Relationship between Foreign Trade University and Kobe University on September 7, 2015, the 2nd joint symposium aims to further promote this partnership and explore its significance on East Asia as well as the world at large.
This year we will hold a symposium under the theme of "Role and Prospect of Japan-Vietnam Academic Exchange".
We look forward to your participation in the symposium.
Please register using the Registration Form.
※Please feel free to join us even on the day.
General Information
Date:
Wednesday 27 September 13:00-17:15
Venue:
Takigawa Memorial Hall, Kobe University
Rokkodai-cho 1-1, Nada-ku, Kobe, Japan
Title:
Role and Prospect of Japan-Vietnam Academic Exchange
Official Language:
English
Host:
Center for Asian Academic Collaboration, Institute for Promoting International Partnerships, Kobe University
Contact:
International Affairs Planning Division, Kobe University
Tel: +81-78-803-5282
Email: intl-relations@office.kobe-u. ac.jp
Note: To avoid spambots, we put a space before "ac.jp," so please delete the space when you email us.
(International Affairs Plannning Division)