CAMPUS Asia Seminar "Current Status and Future Prospect of Japan-China-Korea Trilateral Cooperation"
January 22, 2018
Event
Keywords: Event, Research, Politics
The recent North Korean crisis generates more uncertainty in the Northeast Asian Region. In the meantime, the region remains as an untapped area of regional cooperation and the multilateral cooperation to tackle on this kind of issues has not yet been developed. How would this situation surrounding the Northeast Asian regional cooperation would unfold in the future?
Kobe University CAPMPUS Asia Office will invite Mr. Shigeo Iwatani, Former Secretary-General of the Trilateral Cooperation Secretariat among China, Japan and the Republic of Korea, for a special seminar on "Current Status and Future Prospect of Japan-China-Korea Trilateral Cooperation."
This seminar is open to everyone, and will be a good opportunity to hear views from the actual practitioner in the regional cooperation in East Asia.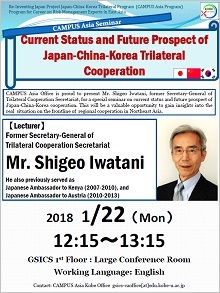 Date

January 22, 2018 (Monday) 12:15 - 13:15



Venue

Main Conference Room, 1st Floor, Graduate School of International Cooperation Studies (GSICS), Kobe University
[No. 40 on the Campus Map (Rokkodai 1st Campus) ]



Topic

"Current Status and Future Prospect of Japan-China-Korea Trilateral Cooperation"



Speaker

Mr. Shigeo Iwatani,
Former Secretary-General of the Trilateral Cooperation Secretariat among China, Japan and Republic of Korea

Speaker's Profile

Mr. Shigeo Iwatani was born in 1950 in Kochi, Japan, and studied law at Hitotsubashi University. He joined the Japanese Ministry of Foreign Affairs in 1973. He served as Minister to the Embassy of Japan in China (1996-1998), and Ambassador Extraordinary and Plenipotentiary to Kenya (2007-2010) and Austria (2010-2013). He took office as the Secretary-General of the Trilateral Cooperation Secretariat during 2012-2015. Currently, he served as the President at Lingua House Education Research Institute.




Language

English



Registration

Open to the public (No pre-registration required)



Host/ Contact

Kobe University CAMPUS Asia Office
Email: gsics-caoffice [at] edu.kobe-u.ac.jp


(Graduate School of International Cooperation Studies)