2nd Bilateral Kobe-Kiel Workshop
September 26, 2018
Event
Keywords: Event, University partnerships, Nanotechnology, Business management, Law
We are pleased to inform you that the 2nd Bilateral Kobe-Kiel Workshop will be held on 26 September 2018 at Kobe University. This workshop is jointly organised with Kiel University, one of our strategic partner universities in Germany. During this workshop prominent researchers from both universities will introduce the latest collaborations between Kobe University and Kiel University in material science, business administration and international law. We look forward to your attendance.
General Information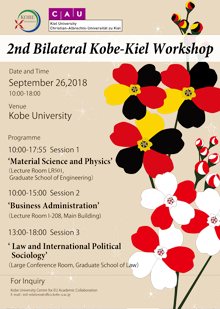 [Date and Time]

September 26,2018
10:00-18:00

[Venue]

Kobe University

[Programme]

Please find attached the Draft Programme
Session 1  10:00-17:55 
'Material Science and Physics'
(Lecture Room LR501, Graduate School of Engineering)
Session 2  10:00-15:00 
'Business Administration'
(Lecture Room I-208, Main Building)
Session 3  13:00-18:00 
'Law and International Political Sociology'
(Large Conference Room, Graduate School of Law)

[For Inquiry]

International Affairs Planning Division, Kobe University
Tel: +81-78-803-5282
Email: intl-relations@office.kobe-u. ac.jp
Note: To avoid spambots, we put a space before "ac.jp," so please delete the space when you email us.
(International Affairs Planning Division)