Global Career Seminar for International Students 2018
October 16, 2018
Event
Keywords: Event, Students, Business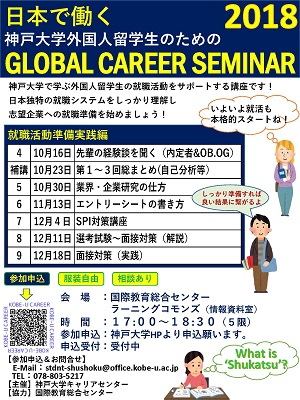 This seminar series is aimed at international students seeking work in Japan after graduation. It provides a valuable opportunity to learn more about the job-hunting process in Japan.
The series will include advice on researching your chosen field or company, writing applications, CV strategies, preparing for interviews and examinations, and talks from international student alumni.
All seminars will be held in Japanese. For full details please see the flyer, and to register please see the Japanese page here .
Dates:
October 16, October 23, October 30, November 13, December 4, December 11, December 18
Time:
17:00-18:30 (5th period)
Venue:
Kobe University Center for International Education Learning Commons (Click here to see map )
Organizers: 
Kobe University Career Center
Supported by:
Kobe University Center for International Education
Details and registration:
Click here for full event details (Japanese language only) and register here . Any personal information provided will solely be used for registration in this seminar and will remain confidential.
(Center for International Education)