2019 Kobe University Study Program will be held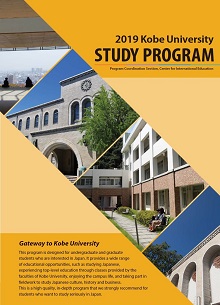 -Gateway to Kobe University-
Kobe University is offering a Study Program for undergraduate students and graduate school students who are interested in Japan. This program provides a wide range of educational opportunities, such as studying Japanese, experiencing top-level education through classes provided by the faculties of Kobe University, enjoying the campus life, and taking part in fieldwork to study Japanese culture, history and business.
This is a high quality, in-depth program that we strongly recommend for students who want to study seriously in Japan. 
Duration: July 15 (Mon.) ~ July 27 (Sat.) 2019
Number of Participants: 25 students
Eligibility:
 Undergraduate and graduate school students who are interested in Japan
 Sufficient English ability (The program is taught entirely in English.)
※No Japanese language requirement
Program Participation Fee: 250,000 JPY
Contents of the Program:
    * Intensive Japanese language courses (Elementary, Intermediate)
    * Lectures
    * Campus life experience at Kobe University
    * Field trips to historically and culturally important sites
    * Certificate Issuance
How to Apply: Click   here  for Online Registration.
Contact:
Kobe University Center for International Education, Program Coordination Section
6F Frontier Hall for Social Sciences, 2-1 Rokkodai-cho, Nada-ku, Kobe, 657-8501 Japan
TEL :+81-(0)78-803-7077  FAX :+81-(0)78-803-7090
Email: cie-kobestp@edu.kobe-u. ac.jp 
 To avoid spambots, we have inserted a space before
  "ac.jp". Please delete the space when you email us. 
(Program Coordination Section, Center for International Education)