GSICS Research Team Conducted Workshop for Lao Government Officials with UNESCO Education Experts
February 14, 2017
Info
Keywords: Info, Research, International relations, Collaborations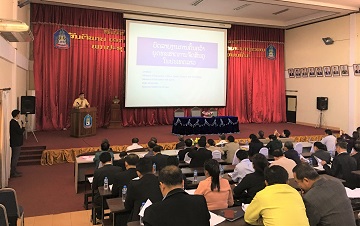 Professor Keiichi Ogawa from the Graduate School of International Cooperation Studies (GSICS) and his research team, including UNESCO education experts, conducted a workshop on developing strategies for efficient primary school teacher placement in Vientiane, Lao People's Democratic Republic (PDR), on January 30, 2017. The workshop was held at the National University of Laos (NUOL) for nearly 60 participants, including His Excellency Dr. Khamphay Sisavanh, the Vice Minister of Education and Sports, four Directors General, Deputy Directors General, and other high-level officials from the Ministry of Education and Sports (MOES), as well as education experts from UNESCO, the Japan International Cooperation Agency (JICA), and the Australian Embassy. Additional participants include Prof. Somsy Gnophanxay, President of NUOL, Prof. Vixay Chansavang, President of Souphanouvong University, four Rectors from Teacher Training Colleges, and other academics.
One of the biggest challenges in achieving the United Nation's Sustainable Development Goal (SDG) 4-Education 2030 in Lao PDR is ensuring the efficient and equitable allocation of teachers. Since teachers' salaries make up the bulk of education budgets, teachers are one of the most important factors concerning the allocation of public resources. Following the presentation by the research team, active group discussions were held to assess the relevance of the presented findings and recommendations for this important topic.
This workshop was based on the joint research work of education experts at the UNESCO Regional Bureau for Education in Asia and the Pacific (UNESCO Bangkok). It is supported financially by the Ministry of Education, Culture, Science, Sports and Technology (MEXT) of Japan. Similar workshops were successfully conducted in Vietnam in November 2016 and in Cambodia in December 2016.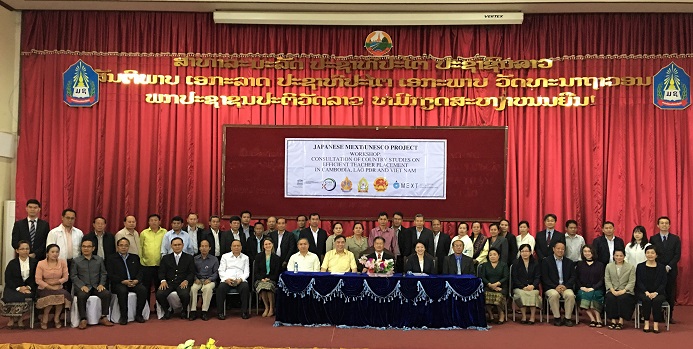 (Graduate School of International Cooperation Studies)