Visit from Foreign Trade University
August 2, 2017
Info
Keywords: Info, International relations, University partnerships
On July 26, four professors from Foreign Trade University's Ho Chi Minh Campus visited Professor FUJITA Seiichi (Executive Vice President in Charge of Education) at Kobe University. The four visitors were participating in a study visit to Japan as lecturers at Vietnamese management school Keieijuku. This program is part of a Japan International Cooperation Agency (JICA) and Vietnam-Japan Human Resources Cooperation Center Project implemented by the Pacific Resource Exchange Center.
Foreign Trade University is a close partner of Kobe University: we have concluded an inter-university academic exchange agreement and memoranda of understanding for student exchange and double degree programs, and in April 2015 we established the Hanoi Liaison Base within Foreign Trade University. The meeting was also attended from Kobe University by Professor NAKAMURA Tamotsu (Dean of the Graduate School of Economics), Professor SUZUKI Kazumi (Dean of the Graduate School of Business Administration), Professor CHENG Kuang-hi (Dean of the Graduate School of International Cooperation Studies) and Associate Professor KAWABATA Koji (Graduate School of International Cooperation Studies).
This is the 8th time that this training program has been held. As part of the program, trainees attending Keieijuku visit companies and educational institutions in Japan to learn about Japanese-style management and human resources development. The program participants also aim to build networks through exchange and dialogue with Japanese businesses and other organizations.
The meeting began with words of welcome from Executive Vice President FUJITA and self-introductions from everyone. The discussion covered a wide range of subjects, starting with how students in Japan are educated with an emphasis on manners and social morality, moving to English-language education in universities, training globally-minded individuals, career support, educating mature students who are already part of the workforce, and exchange between universities in Vietnam and Kobe University. The visitors enthusiastically asked questions, and representatives from Kobe University explained the traditions and philosophy passed down from the Kobe Higher Commercial School, our University's predecessor. The attendees also introduced Kobe University's diverse connections with society including overseas internship programs and special lectures held by guest lecturers from companies, the government, international organizations and NPOs.
To finish, Ms. Lê Hồng Vân spoke on behalf of the delegation to express their gratitude for the meeting. Representatives from JICA and the Pacific Resource Exchange Center also expressed their appreciation. Executive Vice President FUJITA said that he hoped this visit would provide an opportunity for the further development of mutual exchange between Kobe University and both campuses of Foreign Trade University.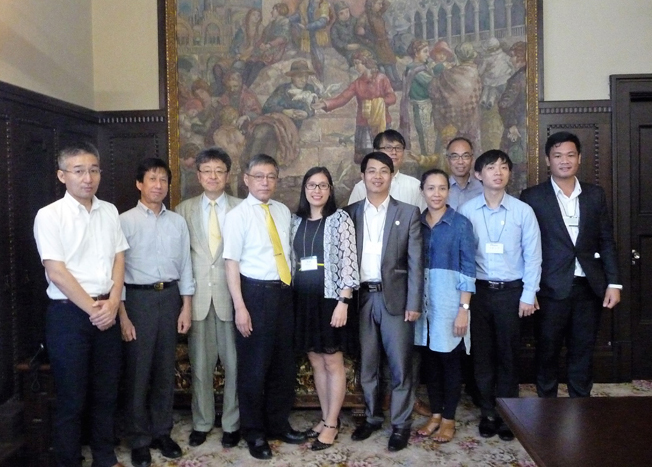 (International Affairs Planning Division)