Visits to IMRA Europe and Aix-Marseille University
August 8, 2017
Info
Keywords: International relations, University partnerships
On July 24, Professor INOUE Noriyuki (Executive Vice-President in charge of International Exchange and Internal Control), Professor OGAWA Matsuto (Executive Vice President in charge of Research and Industry-University Cooperation) and Professor TOMIYAMA Akio (Dean of the Graduate School of Engineering) visited IMRA Europe in Antipolis, France. During the visit both sides introduced their institutions and research projects and discussed partnerships for joint research including researcher and student exchange programs. Following this meeting, both sides agreed to start research exchange activities.
On July 25, Professor INOUE, Professor OGAWA and Professor TOMIYAMA visited Aix-Marseille University in Marseille, France. Kobe University concluded an inter-university academic exchange agreement with Aix-Marseille University on March 23, 2017, and in this visit they talked about student exchange across a wide range of fields including the humanities, social sciences and engineering. The meeting was attended from Aix-Marseille University by Professor Christophe Le Niliot (Head of the Mechanical Engineering and Energy Engineering Department in the Graduate School of Engineering) and Professor Maxime Nicolas (Civil Engineering and Mechanical Engineering). The participants discussed student exchange and the expansion of research exchange in engineering fields. As a result of the meeting, both sides agreed to increase cooperation in order to strengthen this partnership.
Kobe University has been promoting academic exchange with universities and research institutes throughout southern France, starting with Kobe's sister city of Marseille. These visits aimed to further strengthen our University's connections with this region.
(Visit to IMRA Europe)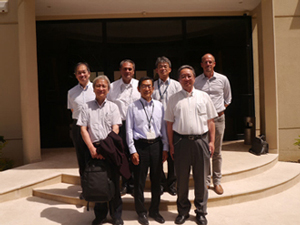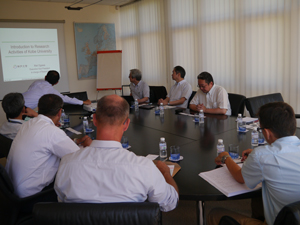 (Visit to Aix-Marseille University)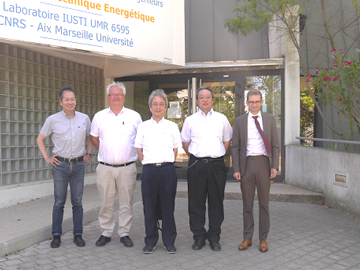 (International Affairs Planning Division)