Visit from the Rector of Nicolaus Copernicus University
September 19, 2017
Info
Keywords: Info, International relations, University partnerships
On September 7, Professor Andrzej Tretyn, Rector Magnificus at Nicolaus Copernicus University (Poland, Torun) visited Kobe University President TAKEDA Hiroshi. The meeting was also attended by Professor INOUE Noriyuki (Executive Vice President in Charge of International Exchange), Professor YUI Kiyomitsu (Executive Assistant to the President in Charge of International Collaboration) and Professor YOSHIDA Ken-ichi (Executive Director of the Kobe University Brussels European Center and Professor at the Graduate School of Science, Technology and Innovation).
Kobe University and Nicolaus Copernicus University concluded an inter-university academic exchange agreement and memorandum for student exchange in May this year. Both institutions are advancing their education and research, and Rector Tretyn's visit was an opportunity to further strengthen the close connections between our universities.
During the meeting, participants talked about the upcoming lecture on genome editing technology that Professor YOSHIDA will give at Rector Tretyn's workshop in October at Nicolaus Copernicus University, and the 8th Kobe University Brussels European Centre symposium that will take place in Belgium, Brussels this November. Rector Tretyn related some episodes about his close links with Japan and Asia in both public and private roles, and it was a cordial discussion from start to finish.
Nicolaus Copernicus University is an important partner institution, and we look forward to strengthening our connections with them in education and research.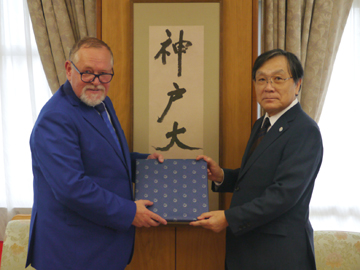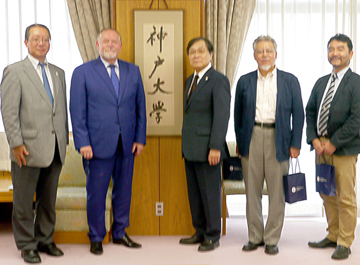 (International Affairs Planning Division)