Visit from the Australian Consulate-General in Osaka
September 20, 2017
Info
Keywords: Info, International relations
On September 11, Mr. David Lawson, Consul-General at the Australian Consulate-General, Osaka visited Kobe University President TAKEDA Hiroshi. The meeting was attended by Ms. TOMINAGA Saori (Education Manager, Australian Consulate-General Osaka) and from Kobe University Professor OKADA Akihiro (Dean, Faculty of Global Human Sciences) and KARASHIMA Masato (Associate Professor, Graduate School of Intercultural Studies).
To begin with, President TAKEDA welcomed Mr. Lawson, expressing his delight at their reunion, and Mr. Lawson in turn expressed his gratitude for the opportunity to visit Kobe University. During the meeting representatives from Kobe University explained our University's exchange initiatives with Australian universities and our programs for accepting international students. They also introduced the newly-established Faculty of Global Human Sciences, created in April this year by the re-organization of the Faculty of Intercultural Studies and the Faculty of Human Development. Professor OKADA gave further details about the new faculty, such as the implementation of faculty-wide education to improve students' ability to analyze and consider global issues from multiple perspectives, and the practical education program that sends all students abroad for studying or fieldwork. The discussion included an explanation about the planned human resources development and special features of the Faculty of Global Human Sciences, and Associate Professor KARASHIMA reported on the progress of the Global Studies Program (GSP).
The visitors from the Australian Consulate-General provided information about two programs: the New Colombo Plan, an initiative that aims to deepen knowledge of the Indo-Pacific region among Australian students by supporting study abroad programs and internships; and HECS-HELP (Higher Education Contribution Scheme – Higher Education Loan Programme) which provides an income contingent loan system to pay student fees. A fruitful discussion took place.
Building upon our good links with Australian organizations such as the Consulate-General in Osaka, the University will work to strengthen partnerships in order to increase student and researcher movement between both nations.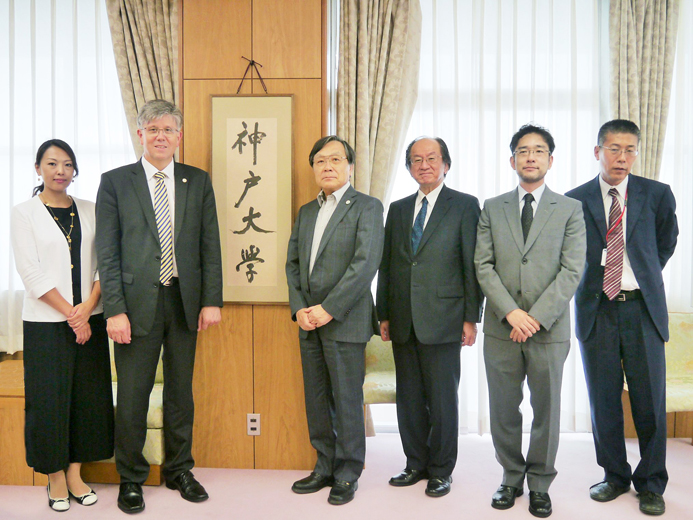 (International Affairs Planning Division)