EURAXESS Japan Tour 2017 @Kobe University was held
October 2, 2017
Info
Keywords: Info, International relations, Grants & funding
On September 19, EURAXESS Japan Tour 2017 @Kobe University was held at Kobe University's Takigawa Memorial Hall.
Dr. Nicolas Voilley from the European Research Council Executive Agency (ERCEA) gave a seminar on the European Research Council (ERC) funding system, applications from Japan, and the ERC's policies and activities to assess the innovative spirit of researchers and provide opportunities for non-EU researchers to carry out their research activities within Europe. Following this, from EURAXESS Japan Dr. Matthieu Py gave a detailed explanation about the Marie Sklowdowska-Curie Actions grants offered as part of the European Commission's Horizon 2020 program.
Finally, Dr. FURUMI Fumikazu (JSPS-ERC Research Associate in cognitive psychology at the Graduate School of Human Development and Environment, Kobe University) spoke on receiving a grant from ERC and his research activities in the United Kingdom.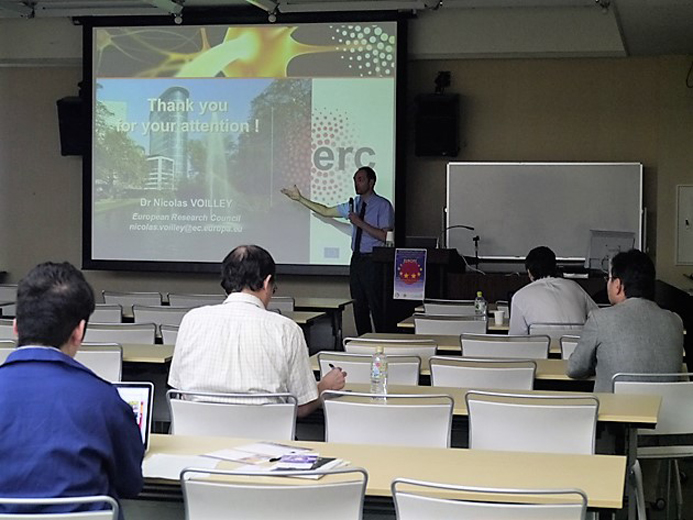 (International Affairs Planning Division)