Visit from Rector of Babeș-Bolyai University
November 7, 2017
Info
Keywords: Info, International relations, University partnerships
On October 30, Rector Acad. Prof. Ioan-Aurel Pop from Babeș-Bolyai University (located in Cluj-Napoca, Romania) paid a courtesy visit to President TAKEDA Hiroshi. He was accompanied from Babeș-Bolyai University by Assoc. Prof. Ioan Alin Nistor (Dean of the Faculty of Business) and from Kobe University the meeting was also attended by Professor INOUE Noriyuki (Executive Vice President in Charge of International Exchange) and Vice President Professor YOSHII Masahiko.
Founded in 1581 and with 43,000 students, Babeș-Bolyai University is the oldest and largest comprehensive university in Romania and one of the most renowned universities in Eastern Europe. In November 1998 Babeș-Bolyai University concluded an inter-university academic exchange agreement with Kobe University and an inter-faculty student exchange agreement with our Graduate School of Intercultural Studies and Graduate School of Economics. For 20 years our universities have collaborated through mutual student dispatch and research exchange, and from 2015 under the Erasmus+ program student exchange has increased further, leading to closer cooperation between our institutions.
During the meeting, after an introduction to Babeș-Bolyai University from Rector Pop, Dean Nistor, who studied at the Kobe University Graduate School of Economics as a Visiting Research Associate, spoke of their growing interest in education and research that focuses on Japanese society and culture in addition to Japanese language. He mentioned examples of exchange with local Japanese businesses in Romania and the Japanese language center at Babeș-Bolyai University. Following this, both sides discussed their international development and strengthening collaboration.
On the same day, Rector Pop and Dean Nistor visited Prof. NAKAMURA Tamotsu (Dean of the Graduate School of Economics) and Prof. SAKURAI Tetsu (Dean of the Graduate School of Intercultural Studies) and talked about potential exchange in research and education.
Babeș-Bolyai University is one of our major partner institutions with a long history of mutual exchange, and we will continue to actively collaborate and build upon our cordial relations.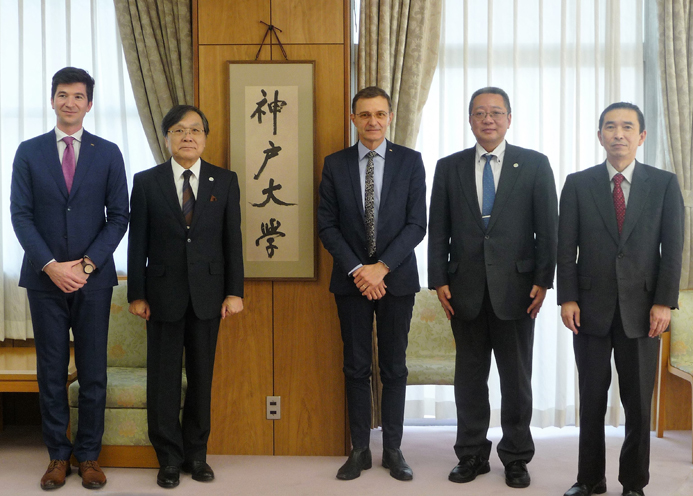 (International Affairs Planning Division)