Student Ambassador interview with Dr. Hans-Gert Pöttering on the occasion of his Doctor Honoris Causa conferral
November 15, 2017
Info
Keywords: Event, Students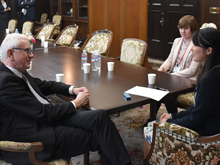 On October 16, at the Idemitzu Sazo Memorial Rokkodai Auditorium, Kobe University, His Excellency Dr. Hans-Gert Pöttering received a Doctor Honoris Causa from Kobe University. Dr. Pöttering was awarded the degree in recognition of his achievements during his time as President of the European Parliament, as well as his considerable contribution to education and research at Kobe University through the activities of the Konrad-Adenauer-Stiftung.
[Interview Contents]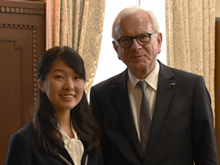 Interviewer: Fumika Ito (Undergraduate, Faculty of Engineering)

First of all, what do you think about being conferred with the Doctor Honoris Causa from Kobe university?

It is a big honour for me that I have been awarded with the Doctor Honoris Causa. I am very grateful and glad that with this reward I became a member of the university, which has a great reputation in Japan and an impressive network of international partners all around the world.
You are supporting student exchange. Could you tell me your ideas about student exchange?

It is my strong belief that especially for young people international exchange is crucial for a mutual understanding. In addition, this lifestyle fights all kind of stereotypes and prejudices, as you travel to foreign countries in order to get to know more about other cultures, traditions and habits. I think that student exchange in this regard can contribute in a significant way to fight against nationalism, populism and all kinds of hate and disrespect. This is the reason why I always supported the development of the Erasmus program of the European Union, one of the greatest successes the European Union has ever achieved.
As you know, Japan is an island country and young people tend to be inward looking.
Under such circumstances, Kobe University is promoting students' study abroad.
We have focused especially on developing a relationship with the EU.
Do you have any advice for the students at Kobe University?

My impression is that the management of the university is very much interested in enlarging the international networks of the university, which I applaud very much. To the students I would like to advise them to be open-minded. They should use every chance to go abroad for a study or travel trip. The European Union has at least two programs that Japanese students can use to visit Europe: Erasmus Mundus and Erasmus+. They should also use the opportunity to talk to international students who come from other countries to attend Kobe University. My impression is that the university provides them with great opportunities.


Some people around me don't want to go abroad.
What do you think about this?

Travelling to other countries is important. You are studying civil engineering, so not only students but also professors and researchers should go abroad and get an insight in the field they are studying. International collaboration is absolutely vital for scientists to share new discoveries and developments in their research.
Click below to read about the Conferral Ceremony of Doctor Honoris Causa upon Dr. Hans-Gert Pöttering: http://www.kobe-u.ac.jp/en/NEWS/info/2017_10_20_01.html
(International Affairs Planning Division)