The 4th Joint Working Group Indonesia-Japan Conference
November 16, 2017
Info
Keywords: Event, International relations
The 4th Joint Working Group Indonesia-Japan Conference (also known as the Japan-Indonesia Rectors' Conference) took place from October 23 to 25 at the Sepuluh Nopember Institute of Technology (ITS) Surabaya in Indonesia. The conference was first held in 2012, and provides an opportunity for rectors from Japanese and Indonesian universities to discuss their common agenda. From Kobe University, Professor TANEMURA Rumi (Vice Dean of the Graduate School of Health Sciences) and Professor TAKADA Satoshi (Graduate School of Health Sciences) participated in the event.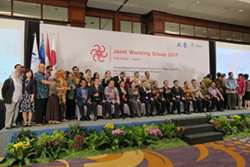 The conference began on October 23 with preparatory meetings divided into three sessions on education, research, and industry and innovation. On October 24, Prof. Ir. Joni Hermana (Rector of ITS) gave a welcome address. This was followed by proposals for the direction of future collaboration from the Japanese Ministry of Education, Culture, Sports, Science and Technology, and the Indonesian Ministry of Research, Technology and Higher Education. The event continued with parallel sessions that built upon the three preparatory meetings from the previous day, and debates took place about concrete initiatives for collaboration. In the session on education, participants discussed mutual exchange through summer schools for undergraduate students, improving educational programs in English, the double degree system at the graduate level, mutual exchange between faculty members, and securing funds.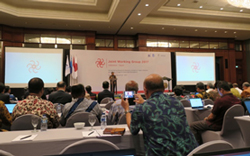 In the research session, participants identified areas to focus on. In addition to renewable energy, food technology, maritime affairs, natural disasters, biodiversity and medical and health sciences, these included society-related topics such as tourism, education, and psychology. In the industry and innovation session, participants suggested an international business internship model and technology incubation initiatives.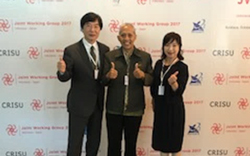 On October 25 the closing ceremony took place, with closing remarks from Prof. Ir. Joni Hermana who expressed his hopes for the further success of this conference. Many Kobe University alumni participated in the conference, particularly graduates from the School of Medicine and Faculty of Maritime Sciences, and the event was an opportunity to show how our University has cultivated talented individuals.
The conference will be held again in two years at Hiroshima University. We look forward to further strengthening the ties between Japanese and Indonesian universities.
(International Affairs Planning Division)