8th Kobe University Brussels European Centre Symposium held
December 7, 2017
Info
Keywords: Event, International relations, Social sciences, Natural sciences
Kobe University held the 8th Kobe University Brussels European Centre Symposium "EU-Japan Initiative for Excellence- Strategic Research Partnership in Medicine, Biotechnology and Social Sciences-" on November 21. The symposium was attended by over 90 people, including Japanese and EU government officials, researchers, students and businesspeople.
Chaired by Professor OGAWA Matsuto (Executive Vice President in Charge of Research and Industry-University Cooperation), the symposium opened with greetings from Kobe University President TAKEDA Hiroshi, Professor Caroline Pauwels (Rector of Vrije Universiteit Brussel), His Excellency Mr. KODAMA Kazuo (Ambassador of Japan to the European Union), and Dr. Philippe Vialatte (Acting Head of Unit, International Cooperation Directorate, Directorate General for Research and Innovation, European Commission, representing Director General Robert-Jan Smits). Their opening words expressed their expectations for further research collaboration between Japan and Europe.  
The symposium was organized into four breakout sessions: globalization and higher education, biotechnology, migrants and community building, and healthy and active ageing. Researchers from Japan and Europe presented cutting-edge research findings and perspectives on future cooperation. This year, members of the Delegation of the European Union to Japan and the European Commission also presented in the sessions to share their views on the session topics from the policy-making side. Participants listened attentively, and active discussions took place.
At the end, in their closing remarks Professor INOUE Noriyuki (Executive Vice President in Charge of International Relations) and Professor Sonja Snacken (Vice-Rector of Vrije Universiteit Brussel) both expressed their hopes for increased research collaboration to encourage active researcher and student exchange between Japan and Europe.
As with the 7th KUBEC Symposium, this year's symposium was also held with the cooperation of Vrije Universiteit Brussel (VUB) where the Kobe University Brussels European Centre is located. The 8th symposium was part of an initiative to strengthen ties with VUB, and on the following day President TAKEDA visited VUB Rector Pauwels and VUB Vice-Rector for International Policy Professor Snacken. President TAKEDA was accompanied from Kobe University by Executive Vice President INOUE, Professor YUI Kiyomitsu (Executive Assistant to the President in Charge of International Collaboration), Professor YOSHIDA Ken-ichi (Executive Director of KUBEC), and Mr. Patrick Vittet-Philippe (Advisor to KUBEC). During the meeting the participants discussed plans for future academic events, potential research collaboration such as joint participation in Horizon 2020, and creating a joint education program.
This symposium provided an opportunity for high-level information exchange on common issues between Japan and Europe, and as such it was highly evaluated by Japanese and European government officials as well as researchers. Kobe University will continue to use our Brussels European Office as a base to promote increased cooperation with Europe in education and research.
| | | | |
| --- | --- | --- | --- |
| President TAKEDA Hiroshi | Professor Caroline Pauwels, Rector of Vrije Universiteit Brussel | H.E. Mr. KODAMA Kazuo, Ambassador of Japan to the European Union | Dr. Philippe Vialatte, Directorate General for Research and Innovation, European Commission |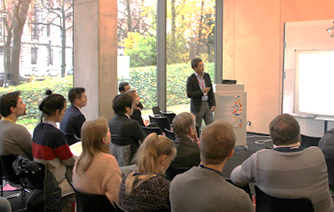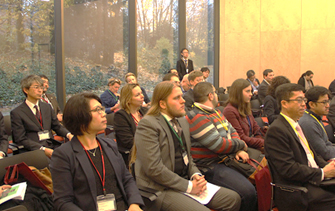 The 8th Kobe University Brussels European Centre Symposium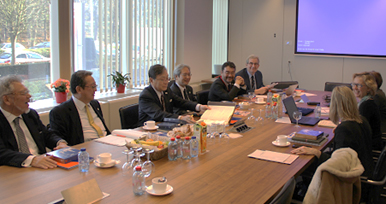 Visiting the Rector of Vrije Universiteit Brussel
(International Affairs Planning Division)