Conferral Ceremony of Doctor Honoris Causa for Professor Jiří Drahoš
December 7, 2017
Info
Keywords: Event, International relations
On November 24, Kobe University conferred a Doctor Honoris Causa upon Professor Jiří Drahoš (former President of the Czech Academy of Sciences). The degree was conferred in recognition of his achievements regarding international joint research projects between Japan and Europe and his great contributions to research and education at Kobe University as a member of our Advisory Board.
The conferral ceremony was chaired by Professor OGAWA Matsuto (Executive Vice President in Charge of Research and Industry-University Cooperation). Kobe University President TAKEDA Hiroshi spoke on Professor Drahoš' research achievements and his activities as a member of the Kobe University Advisory Board, followed by an overview of Kobe University and our international exchange activities with Europe, including those with the Czech Republic.
After the ceremony, Professor Drahoš gave a memorial speech, introducing his collaborative research accomplishments with Japanese institutions such as Kobe University, and expressing his gratitude for receiving the Doctor Honoris Causa. Approximately 50 people attended the event, including the rectors of Czech-based universities and members of Czech government organizations. At the reception, President Takeda, Professor INOUE Noriyuki (Executive Vice President in Charge of International Exchange) and Professor OGAWA discussed future international exchange activities with Professor Drahoš and other attendees.
A press conference was also held, and Professor Drahoš, accompanied by President TAKEDA, Professor INOUE and Professor OGAWA responded to questions from the Czech media about the ceremony.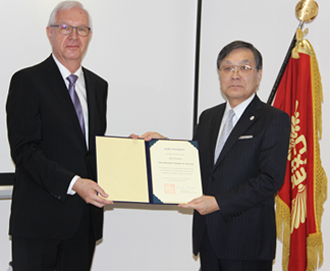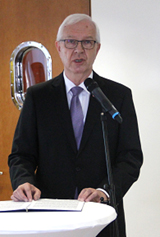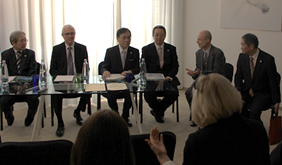 (International Affairs Planning Division)