Seminar held in Barcelona on healthy and active ageing
December 7, 2017
Info
Keywords: Event, Life sciences, Health
On November 23, Kobe University and Casa Asia co-hosted a seminar in Barcelona titled "Healthy and Active Ageing in Japan and Spain".
Following opening remarks from Mr. WATANABE Naohito (Consul General of Japan in Barcelona) and Professor YUI Kiyomitsu (Executive Advisor to the President in Charge of International Collaboration), Japanese and Spanish researchers gave presentations on healthy ageing and issues related to the elderly in Japan and Spain. The seminar was moderated by Mr. Rafael Bueno (Director of Politics, Society and Education at Casa Asia). From Kobe University Professor KOWA Hisamoto (Graduate School of Health Sciences) and Associate Professor ONO Rei (Graduate School of Health Sciences) introduced our University's initiatives, focusing on exercise therapy with the aim of combating dementia and frailty. From Spain, Professor Laura Coll-Planas (Autonomous University of Barcelona), Professor Marco Inzitari (Director of Healthcare at Parc Sanitari PereVirgili), and Dr. Jeroen Spijker (Research Fellow at the Autonomous University of Barcelona) participated. They presented on healthy ageing in Europe, intervention studies on cognitive and physical functions in the elderly, and new perspectives on ageing and population structure from a demographic studies viewpoint. The presentations were all of a high standard, demonstrating novel insights based on cutting-edge research.
Approximately 50 people attended the seminar. During the question and answer sessions and the audience discussion, there were many earnest questions about the ageing issues faced by both countries. This seminar also gave a sense of the high level of interest in Japanese society within Spain.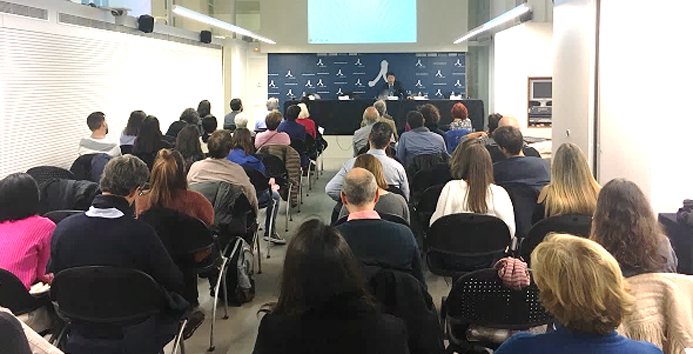 (International Affairs Planning Division)