The 14th Kobe University International Student Homecoming Day held
December 12, 2017
Info
Keywords: Event, International relations, People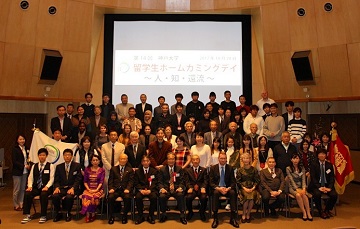 On October 28, the 14th International Homecoming Day was held in the Centennial Hall (Rokko Hall) at Kobe University.
This event began in 2002 to provide a valuable opportunity for international students to reunite and make new connections, based on the philosophy of "people, knowledge, and returning". This year's event kicked off with a light-footed popping dance from international alumnus SUN Chong (Graduate School of Economics 2016). He started dancing as a student, and since graduation he has improved his skills further, giving us a powerful performance.
In his opening greeting, Professor KAWAI Naruo (Director of the Center for International Education) spoke in memory of President Emeritus NAM Sang Soo of the Alumni Association in Korea, who passed away this year. This was followed by an announcement that in academic year 2017 President of the Alumni Association in China Professor XU Yiping received a Foreign Minister's Commendation in Japan.
The main theme of this year's event was "Welcome back to Kobe University: a dialogue between alumni and their former professors". Moderated by Professor PARK Chung-woo (Center for International Education), international alumni from the sciences and humanities met with their former supervisors and talked about their time studying at Kobe University.
In the sciences session, we used a remote video conference system between four locations in Kobe, Tokyo, the USA and Germany to hold long-distance conversations. Four alumni held dialogues through the monitors: Lucian Gheorghe from Romania, who studied under Professor UEHARA Kuniaki at the Graduate School of System Informatics (2005 graduate from the Graduate School of Natural Sciences, currently employed at Nissan Motor Corporation); Andrey Nikolov from Bulgaria (2004 graduate, also from the Graduate School of Natural Sciences, currently employed at Apple Inc.); and from the same research laboratory SHIRAHAMA Kimiaki (2011 graduate, currently at the University of Siegen in Germany). The session went smoothly with no delays in the connection, and we felt the strength of student-teacher bonds that continued after graduation.
In the humanities session, Emeritus Professor SERITA Kentaro (Graduate School of Law and Graduate School of International Cooperation) took the platform with former pupil Brett Cooper from Australia (1997 graduate from the Graduate School of Law, currently employed at the Embassy of Australia). We were privileged to hear public and private episodes that demonstrated their strong connection.
All the alumni talked about memories of the time they spent at Kobe University, and the tutelage they received from their supervisors. Lucian Gheorghe made a memorable comment, adding to the warm atmosphere in the venue: "Ever since I was a student, my professor has done more than just provide me with academic stimulation - he has always been my northern star, helping me when I lose my way in life."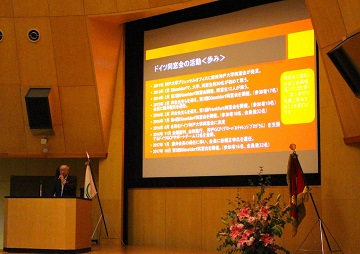 The session introducing the Kobe University Overseas Alumni Associations began with an introduction to the network from Professor KAWAI. This was followed by reports on Kobe University Alumni Association in Germany activities from FUJII Takashi (1983 graduate of the Faculty of Engineering) and BANBA Hitomi (2013 graduate of the School of Business Administration). The Alumni Association in Germany started its activities in 2011, formally decided an association name in 2016, and since then has engaged in various initiatives including the publication of a newsletter. The association has made great contributions to Kobe University's global education programs, including the provision of work experience in German companies for Japanese students studying abroad in Germany.
The "KU World Festa" organised by international students currently enrolled at Kobe University featured short films created by the student organizations. The films introduced the appeal of Kobe and Kobe University for international students from the perspective of six student organizations: Korea, Thailand, Taiwan, Malaysia, Indonesia, and China. Each film had its own style and charm, and drew attention from the audience.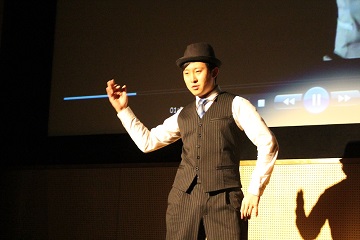 At the end of the event, Professor UCHIDA Kazunori (Executive Vice President) commented that international students are a vital part of Kobe University, and the University wants to stay connected with all of them after graduation. Finally, all participants stood to sing the University song.
After the main event, we changed venues for the Alumni Tea Party. International alumni, Japanese students, international students, current and retired faculty and staff, and members of the student organization supporting international students reminisced together, made new connections, and had a good time.
Despite the rainy weather, approximately 100 people participated in this Homecoming Day. It provided an opportunity to deepen the links between currents students and alumni, as well as a chance to make new connections and widen our networks.
(Center for International Education)