Student Ambassador interview at the Kobe University Brussels European Centre
December 21, 2017
Info
Keywords: Event, International relations, Students, People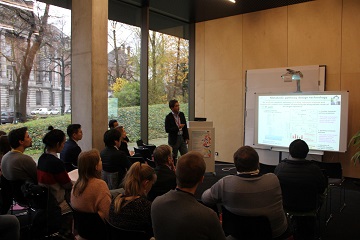 Interview by Student Ambassador Ms. SUGIOKA Yui. An undergraduate in the Faculty of Economics, she is currently studying abroad in Brussels, Belgium.
The Kobe University Brussels European Centre Symposium was held on November 21. This was the 8th symposium organized in Brussels and also the 2nd time it was held in collaboration with Vrije Universiteit Brussel (VUB). Many professors and researchers from around the world participated in this symposium.
This year, four sessions were organized: (1) Innovation in Higher Education and Social Sciences: Regional Culture and Global Challenges, (2) Microorganisms in biotechnology, (3) Migration and Community Building and (4) Healthy and Active Aging: a Key Role for Physical Exercise. A wide variety of research themes were discussed in these sessions. All the topics were relevant and attracted a lot of interest. For students like me, it was a very valuable opportunity to get a lot of knowledge and broaden my perspective.
After the symposium, I asked Professor YUI Kiyomitsu (Executive Assistant to the President in Charge of International Collaboration), Professor YOSHIDA Ken-ichi (Executive Director of the Brussels European Centre) and Mr. Patrick Vittet-Philippe (Executive Advisor of the Brussels European Centre), to give an interview.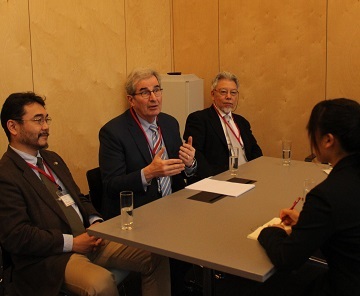 First, I asked about the purpose of this symposium
Prof. Yoshida:  I think the main purposes of this symposium are these three things: 1. To emphasize the presence of Kobe University in Europe, 2. To facilitate collaboration with VUB, and 3. To explore more practical ideas of collaboration. In this symposium, it was also important that we try to create a balance between the areas of study. This year we succeeded in organizing two themes each from the areas of social science and natural science. The symposium this year is one of our most successful to date.
Mr. Vittet-Philippe:  I think the role of this symposium is also ensuring visibility and developing bilateral projects. This symposium is the biggest event in Europe for us, so we are able to establish great relationships in terms of communication with many communities, of course, such as European institutions or academic science technology chancellors. Besides this, it's an opportunity for business meetings between the professors from various disciplines in Kobe University and their European counterparts as well. We'd like to develop Europe-wide projects starting from Kobe University and identify other partners in the potential areas of cooperation.
Prof. Yui:  Yes, such a big symposium has a very important role for the purpose of enhancing the visibility of Kobe University. As a result of this symposium, we are able to seek out opportunities for joint research and connection with other institutions. We also look for guidance in making exchange agreements and identifying the best host institutions for Kobe university students.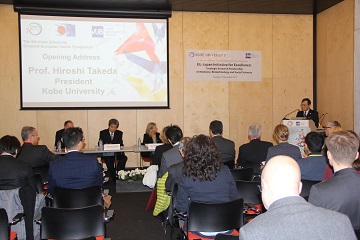 What about the future direction of this symposium?
Mr. Vittet-Philippe:  Researchers from many countries and institutions participated, and the quality of the symposium was particularly good this year. The target for next year's symposium is to make it even bigger and better. Besides this, I also hope to work more closely with other partner universities.
Prof. Yui:  By utilizing the deeper connections with researchers and scholars worldwide that we can get in this city, we are enhancing academic activities on a much higher level. For the next event, I hope that this Brussels symposium will be even more memorable.
The three interviewees told me about the contributions of the Kobe University Brussels European Centre (KUBEC) as well.
Mr. Vittet-Philippe:  KUBEC was established in 2010. The opening was attended by many important people such as former president of the European Council, Mr. Herman Van Rompuy. So we have a permanent presence in Brussels. Until 2016, Kobe was the only Japanese university with an office in Brussels. Why Brussels? Because it has many European institutions and it's the place that most of the Belgium universities are concentrating on. In addition to that, many research projects are conducted here.
Prof. Yui:  The basic aims of KUBEC are enhancing visibility and entrenching the presence of Kobe University in this area of Europe. Traditionally, the mission of KUBEC is organizing events, workshops, big symposia and also providing different kinds of support for professors and colleagues in Kobe University. Besides this, we also organize exchange agreements with other universities. What and where you can study abroad now is kind of an outcome of KUBEC.
As Patrick already said, having an office in Brussels is very unusual for a Japanese university. Kobe University has strong ties with European universities, so these strong ties help our University to do special activities. This gives us a unique position in Japan.
Finally, some very valuable messages for Kobe University students.
Prof. Yoshida:  Enjoy yourself. Be encouraged, and be proud of your achievements. Finally, be professional about your life, not just your job.
Mr. Vittet-Philippe:  The experience of studying abroad definitely opens your eyes. It's a good experience that makes you grow up, and you will discover many things too. Overcoming difficulties makes you stronger. It's a personal stage, so enjoy doing it. Please talk to a lot of people, global citizen. Now you have easy access to a lot of the people you met through SNS, so you can keep in touch with them and expand relationships. Your life is richer. And it will become even more richer than now.
For students, if you have any questions, you are welcome at KUBEC anytime. When you come to Europe, you can receive a lot of support and logistic advice.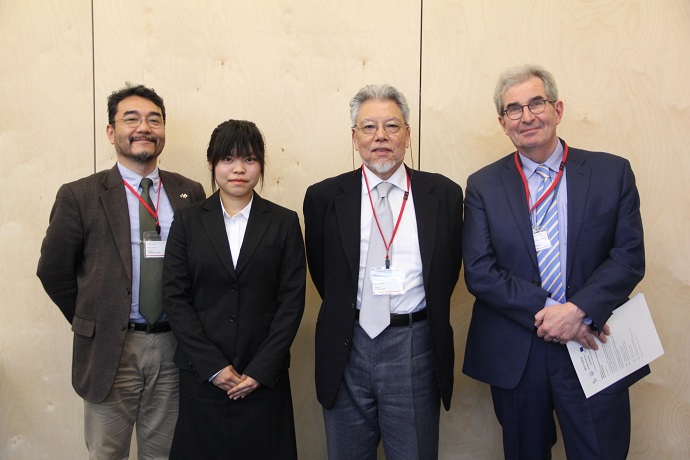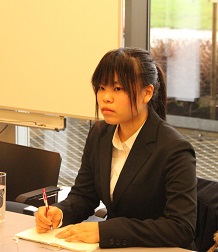 Comment from the interviewer
Faculty of Economics third-year Ms. YUI Sugioka: 
I am very grateful to the three interviewees for their valuable advice, and for making time in their busy schedules to meet me. I will continue to work hard and not forget their words of support.
(International Affairs Planning Division)