Opening ceremony for relocated China Office and 10th anniversary celebration of Kobe University Alumni Association in Beijing
January 22, 2018
Info
Keywords: International relations, University partnerships, Students, People
The Institute for Promoting International Partnerships at Kobe University (Director: Professor INOUE Noriyuki, Executive Vice President in Charge of International Exchange) held an opening ceremony for the relocated China Office on December 18, 2017. The ceremony took place at the office's new location within the Beijing Center for Japanese Studies at Beijing Foreign Studies University.
The Kobe University China Office has been our active base in China since 2008, with the following aims: (1) providing study abroad support for talented students in China who wish to study at Kobe University; (2) promoting academic exchange to develop joint research projects with Chinese universities and research institutes; and (3) supporting exchange and contact between Kobe University alumni based in China. Kobe University has been considering office relocation for several years, and it was realized thanks to the support of Beijing Foreign Studies University. Exchange has increased between our institutions since we concluded an inter-university academic exchange agreement in 2008.
The opening ceremony began with words from Professor PENG Long (President of Beijing Foreign Studies University) and Professor TAKEDA Hiroshi (President of Kobe University). Following this, a signing ceremony took place for a Memorandum of Understanding between the Kobe University Center for Asian Academic Collaboration and the Beijing Center for Japanese Studies, reconfirming both sides' intentions to strengthen our collaboration. Both sides received congratulations from Mr. YOKOI Masao (Councilor of the Embassy of Japan in China), and Mr. MISONO Toru (President of the Kobe University – Beijing Alumni Association). Finally, President PENG and President TAKEDA carried out the unveiling ceremony. As of January 2018, the China Office is now operating from its new location.
Before the ceremony, both universities participated in a workshop and held concrete discussions about the future direction of cooperation, such as joint research projects and issuing joint publications.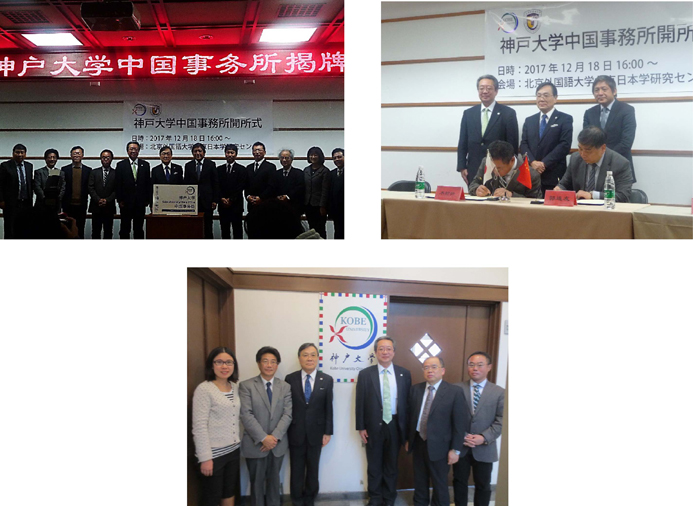 On December 17, the day before the ceremony, over 30 members of the Kobe University Alumni Association in China were joined from Kobe University by President TAKEDA, Executive Vice President INOUE Noriyuki and other faculty and staff in a grand celebration for the 10th anniversary of the Kobe University Alumni Association in China. Jointly organized by Mr. HAN Yanyuan and Ms. OOKA Yukako, the event included a commemorative lecture from President TAKEDA and the latest updates on alumni activities, notably Professor XU Yiping's reception of a Foreign Minister's Commendation in 2017. Participants were able to gain a deeper understanding about the many activities of the Alumni Association in China. Kobe University also received a donation from the Alumni Association to support our internationalization initiatives.
Kobe University is engaged in wide-ranging exchange with Chinese universities and other organizations. Through occasions such as the relocation of the China Office and participation in the Alumni Association celebration, the University will continue to strengthen its relationship with universities and institutions in China, Asia and worldwide.

(International Affairs Planning Division)