GSICS Research Team Conducted Workshop on ECCE financing for Viet Nam, Lao PDR and Cambodia Government Officials with UNESCO Education Experts
February 9, 2018
Info
Keywords: Info, International relations, Education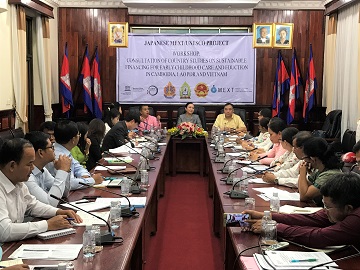 Professor Keiichi Ogawa from the Graduate School of International Cooperation Studies (GSICS) and his research team, collaborating with UNESCO education experts, conducted workshops on exploring sustainable financing mechanisms for ensuring Early Childhood Care and Education (ECCE) for All in Viet Nam, Laos and Cambodia from January 22 to 26, 2018. In each country, the workshops were held for about forty Ministry of Education officers, including Director Generals of various departments, and education experts from international organizations and academia.
The workshop in Viet Nam was organized, thanks to the strong support of Dr. Nguyen Ba Minh, Director-General, Department of Early Childhood Education, Ministry of Education and Training (MOET). In Lao PDR, the workshop was chaired by Dr. Bounpanh Xaymountry, Director-General, Department of Planning, Ministry of Education and Sports (MoES). In Cambodia, Her Excellency Kim Sethany, Secretary of State of Ministry of Education, Youth and Sports (MoEYS), and His Excellency Lim Sothea, Director-General, Policy and Planning Department, MoEYS, chaired the workshop and delivered opening and closing remarks, respectively. Participants from UNESCO include Ms. Maki Hayashikawa, Director a.i., UNESCO Regional Bureau for Education in Asia and the Pacific (UNESCO Bangkok), who delivered opening remarks in Viet Nam and Lao PDR workshops, and Mr. Santosh Khatri, Chief of Education, UNESCO Phnom Penh, who delivered opening remarks in Cambodia workshop.
In each country's workshop, UNESCO education experts first presented an overview of their ECCE projects in Asia Pacific region. Next, the GSICS research team presented preliminary findings and recommendations for the three countries, followed by an active question and answer session on sustainable financing mechanisms for ECCE in these countries. Third, the participants were divided into four or five small groups, and each group discussed the relevancy of the presented findings and recommendations considering their country's local context.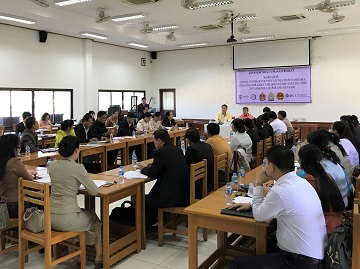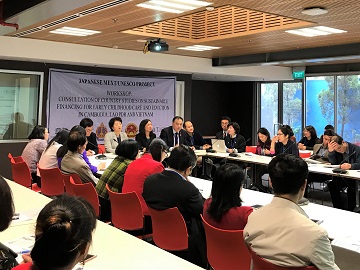 (Graduate School of International Cooperation Studies)