Kobe University Overseas Advisory Board meeting held
February 14, 2018
Info
Keywords: Research, International relations, Collaborations, University partnerships, Grants & funding
On February 6, Kobe University held an Advisory Board meeting at the Honolulu Office of Kobe University in Hawai'i, United States of America. The meeting was attended by board member Prof. NAKAMURA Shuji (University of California, Santa Barbara).
Professor SHIMOMURA Ken-ichi (Director, Office of the Americas, Institute for Promoting International Partnerships, Kobe University) chaired the meeting and Professor MIZUTANI Fumitoshi (Executive Vice-President) reported on the new composition of the Board. This was followed by presentations from Professor OGAWA Matsuto (Executive Vice President) and Professor KATAOKA Tohru (Vice President) respectively on competitive funding acquisition and joint research (especially in medicine) with universities in the Americas.
Afterwards in the discussion, Prof. Nakamura expressed his opinions on topics such as university ventures and donations, and evaluated Kobe University's related initiatives.
Kobe University will continue to hold Advisory Board meetings in its overseas offices, and work to further enhance our governance.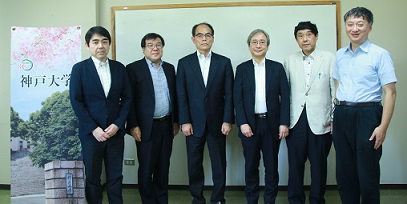 (International Affairs Planning Division)