Participation in the 100th Anniversary events of Ivane Javakhishvili Tbilisi State University
February 14, 2018
Info
Keywords: Info, International relations, University partnerships
This year Ivane Javakhishvili Tbilisi State University (TSU) – a partner university of Kobe University since last year – welcomed its 100th anniversary, and Prof. INOUE Noriyuki (Executive Vice-President) participated in the anniversary events as Kobe University's representative.
The anniversary events were held from 7 to 9 February. On the 7th, a welcome reception was held at the residence of H.E. Dr. Giorgi Margvelashivili (President of Georgia). In the reception, Prof. Inoue conveyed his congratulations to H.E. Dr. Margvelashivili and H.E. Dr. Mikheil Chkhenkeli (Minister of Education and Science of Georgia). Afterwards, Prof. Inoue participated in the signing ceremony for exchange agreements between TSU and its partner universities. In the evening, Dr. George Sharvashidze (Rector, TSU) hosted a welcome dinner at TSU, on which occasion Prof. Inoue presented Kobe University's memorial gifts to Dr. Sharvashidze.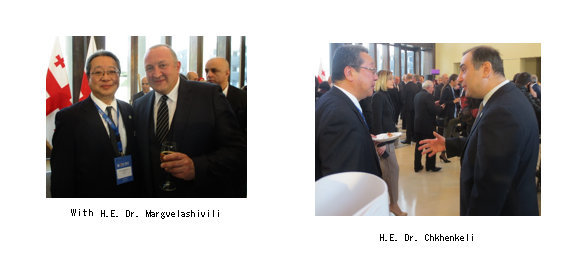 On the 8th, Prof. Inoue attended the ceremonial meeting. In the ceremony, rectors of TSU's numerous partner universities expressed their congratulations on the 100th anniversary. Afterwards, guests were invited to a welcome reception at the Parliament of Georgia, church service at the Trinity Cathedral, and gala concert at the Tbilisi Opera. In the evening, H.E. Mr. Giorgi Kvirikashvili (Prime Minister of Georgia) hosted a welcome dinner; there Prof. Inoue had a friendly chat with H.E. Mr. Kvirikashvili. H.E. Mr. UEHARA Tadaharu (Ambassador of Japan to Georgia) was also invited to the dinner.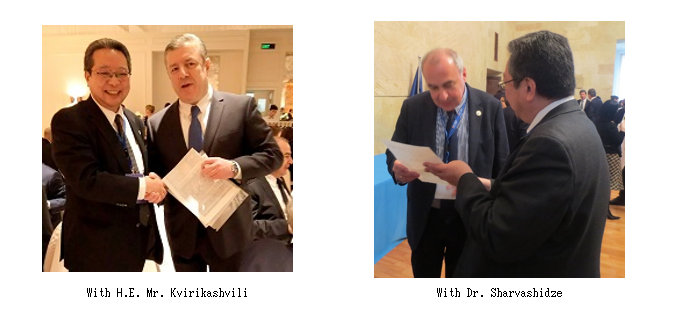 On the final day, a joint symposium between TSU and UNESCO was held under the title of 'Prospects of Higher Education: Recalling the Past and Exploring the Future'. In the symposium, members of TSU and representatives from various universities gave presentations on related topics and had fruitful discussions. During the symposium, Prof. Inoue conversed with Dr. Sharvashidze and presented him a congratulatory letter from Prof. TAKEDA Hiroshi (President, Kobe University). In the evening, H.E. Mr. Kakha Kaladze (Mayor of Tbilisi) hosted a welcome reception; there Prof. Inoue had a friendly chat with H.E. Mr. Kaladze.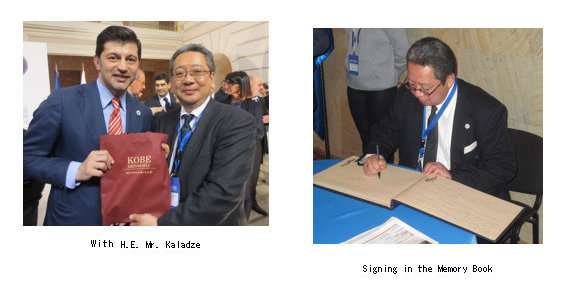 The anniversary events were attended by numerous universities (especially from Europe) and highlighted TSU's pivotal position for higher education in the Caucasus. It was also noteworthy that members of TSU and other officials from Georgian higher education expressed their great hopes for Kobe University's further exchanges with TSU as the first Japanese university to have signed an inter-university cooperation agreement with TSU.
(International Affairs Planning Division)