Reports from the Long Term Overseas Visit Program for Young Researchers (2018)
February 16, 2018
Info
Keywords: Research, International relations, Collaborations, University partnerships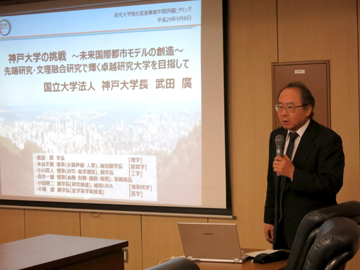 On February 7, a group of researchers gave presentations on their experiences participating in the Kobe University Long Term Overseas Visit Program for Young Researchers. This initiative started under the previous Kobe University President FUKUDA Hideki in 2009 with the aim of training the next generation of scholars who will contribute to academia. The program continued after current President TAKEDA Hiroshi took his post, and over 130 researchers have traveled overseas under this initiative.
This event featured reports from participants who had returned to Japan as of November 30, 2017. They presented the research results gained during their period overseas and their personal experiences on the program. As well as providing an opportunity to strengthen future education and research, this event also aimed to encourage other young researchers who are interested in applying to this program.
Professor ODA Keiji (Vice President in Charge of Research Promotion) gave the opening greetings, highlighting the "A" obtained by Kobe University in a research-strengthening initiative mid-term evaluation. He also presented analysis of the research questionnaire submitted by young researchers after their return to Japan, and encouraged them to continue international joint research and increase the number of co-authored papers.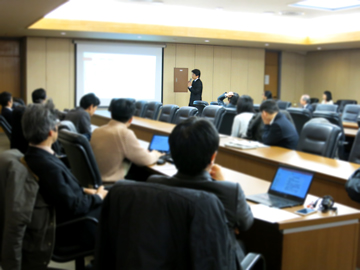 Following this, 14 young researchers presented their experiences overseas. They focused on research contents and results, also mentioning exchange with other researchers and describing the research environment in overseas organizations.
About 40 faculty members, staff and students participated in this event. The participants asked many questions, and a lively discussion took place.
In the closing speech from Professor ODA, he praised the young researchers for their achievements, and expressed his hopes that they would continue international joint research, ending with the words "This program is an investment in young researchers and in the future of Kobe University". The University will continue this initiative as part of the goal to become an outstanding research university.
                    (International Affairs Planning Division)