Visit from the Japanese Ambassador to the Republic of Slovenia
March 1, 2018
Info
Keywords: Info, International relations
On February 26, His Excellency Mr. FUKUDA Keiji (Ambassador Extraordinary and Plenipotentiary, Embassy of Japan, Republic of Slovenia) visited Kobe University and met with Professor MIZUTANI Fumitoshi (Executive Vice President) and Professor YUI Kiyomitsu (Executive Assistant to the President in Charge of International Collaboration).
His Excellency Mr. Fukuda began by expressing his appreciation for Executive Vice President Professor OGAWA Matsuto's visit to Slovenian universities and research institutes in November of last year. Professor Mizutani and Professor Yui then updated the Ambassador on the current status and future plans for academic exchange with Slovenian universities, and joint research and researcher exchange with Slovenian research institutes. Following this, the Ambassador introduced the features of universities in Slovenia, examples of university-industry collaboration between Japanese companies based in Slovenia and Slovenian institutes, and collaboration between Japanese and Slovenian research institutes. The meeting continued with further discussion about academic exchange, university-industry collaboration, and faculty, staff and student exchange.
After the meeting, His Excellency Mr. Fukuda visited the Graduate School of Engineering, where Professor KANNO Isaku (Graduate School of Engineering) introduced the organization of the Graduate School of Engineering, the number of students, and examples of education through both basic and applied research. This was accompanied by a viewing of Professor Kanno's research laboratory, incorporating an outline of his research and a demonstration of wearable devices.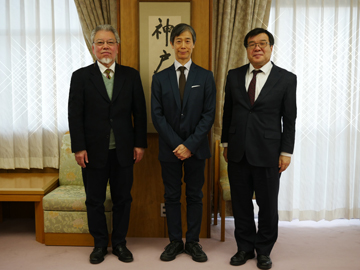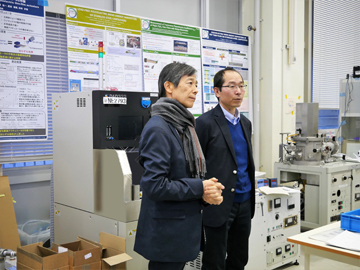 Kobe University is actively engaging in student and research exchange with universities and research institutes in Slovenia, and we will continue to strongly promote joint research and exchange with this nation.
(International Affairs Planning Division)