Visit and signing ceremony at INP Toulouse
March 9, 2018
Info
Keywords: International relations, University partnerships, Technology
On February 27, Professor INOUE Noriyuki (Executive Vice President in Charge of International Exchange and Internal Control), Professor OGAWA Matsuto (Executive Vice President in Charge of Research and Industry-University Cooperation) and Professor TOMIYAMA Akio (Dean, Graduate School of Engineering) visited the National Polytechnic Institute of Toulouse (INP Toulouse). INP Toulouse, established in 1969 in Toulouse, France, is composed of seven schools, covering engineering and veterinary medicine. Researchers in INP Toulouse and Kobe University have been engaged in academic exchange, mainly in engineering disciplines.    
In order to expand these connections, both universities agreed to conclude an inter-university agreement for academic exchange, and a signing ceremony took place during the visit. The ceremony was attended by President Olivier Simonin, who signed the agreement alongside Executive Vice President INOUE. The professors responsible for international exchange from each INP Toulouse school were also present. After introducing our respective institutions and confirming the current exchanges, both sides agreed to collaborate more closely. Following the ceremony, Executive Vice President INOUE, Executive Vice President OGAWA and Professor TOMIYAMA visited INP Toulouse research facilities LAPLACE (Laboratory on plasma and conversion of energy) and IMFT (Institut de Mécanique des Fluides de Toulouse), where they were guided around the fluid engineering and electronic engineering facilities, and explored the possibilities for research exchange in these fields.  
We look forward to expanding exchange with the inclusion of student exchange.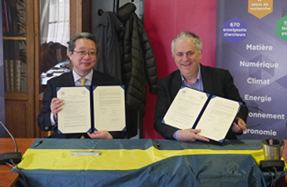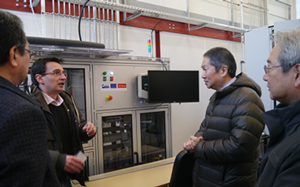 (International Affairs Planning Division)