Visit from Shanghai Jiao Tong University
April 11, 2018
Info
Keywords: International relations, University partnerships
On March 29, representatives from Shanghai Jiao Tong University Professor JI Weidong (Dean and Presiding Chair Professor of Law School, Chair of the Preparatory Committee for the Establishment of the Center of Japan Studies), and Professor DING Jian (Deputy Director of the International Exchange Division, Vice-Chair of the Preparatory Committee for the Establishment of the Center of Japan Studies) paid a visit to Professor INOUE Noriyuki (Executive Vice President for International Exchange at Kobe University). Professor JI Weidong also holds the post of Professor Emeritus at Kobe University. The meeting was also attended from Kobe University by Professor YUI Kiyomitsu (Executive Assistant to the President in Charge of International Collaboration), Professor HUANG Lin (Vice-Director of the Center for Asian Academic Collaboration), Professor LUO Zhi-wei (Director of the Kobe University China Office). Professor KADOMATSU Narufumi (Graduate School of Law), Professor TAKAHASHI Hiroshi (Graduate School of Law) and Professor SHIRATORI Yoshihiko (Graduate School of Humanities).
Shanghai Jiao Tong University is a renowned, historic institution established in 1896, with talented alumni active in a wide range of fields. In April 2009 Shanghai Jiao Tong University and Kobe University concluded an inter-university academic exchange agreement and a memorandum of understanding for student exchange, and during the following decade our institutions have built a close partnership through accumulated collaboration in research and student exchange.
The meeting began with an introduction to the Shanghai Jiao Tong University Center of Japan Studies and its academic projects from Professor JI. This was followed by a discussion between members of both institutions covering a broad range of topics, from fostering talent in the fields of company law, economics and business administration, to data science using big data and AI, research on the Silk Road region, Japanese culture, disaster prevention and urban management. They also discussed the expansion of student exchange and overseas development.
Shanghai Jiao Tong University has been an important partner institution for many years, and we will continue to actively build upon our collaborative and cordial relations.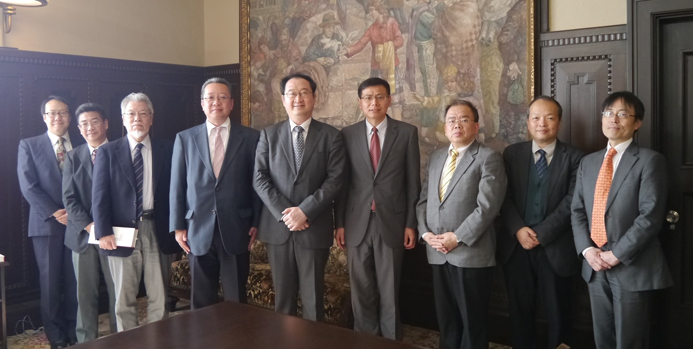 (International Affairs Planning Division)