Discussion on renewable and hydrogen energy with European delegations
April 11, 2018
Info
Keywords: Research, International relations, Natural sciences
On April 4, researchers from Kobe University participated in a discussion with delegations from the cities of Hamburg (Germany) and Groningen (the Netherlands). The delegations came to Japan to participate in a trilateral symposium on energy and the environment between Kobe, Hamburg and Groningen, and the groups comprised scholars from German and Dutch universities and research institutes, members of companies and governmental organizations. From Kobe University the event was attended by Professor TAKEDA Minoru (jointly-held posts at the Organization for Advanced and Integrated Research and the Graduate School of Maritime Sciences), Professor KITA Takashi, Professor ASANO Hitoshi, Associate Professor MURAKAWA Hideki (all three from the Graduate School of Engineering), and Associate Professor TACHIKAWA Takashi (Molecular Photoscience Research Center).
The meeting started with a few words from Ms. Nicole Plewnia (German Chamber of Commerce and Industry). This was followed by self-introductions and explanations of their research activities from each of the attendees, which led to an information exchange about hydrogen energy and renewable energy. A lively debate took place on technology development for the production, storage, transport and power generation of hydrogen, next-generation energy sources such as wind power and geothermal energy, and the industry-academia-government collaborations in each country in environment and energy fields.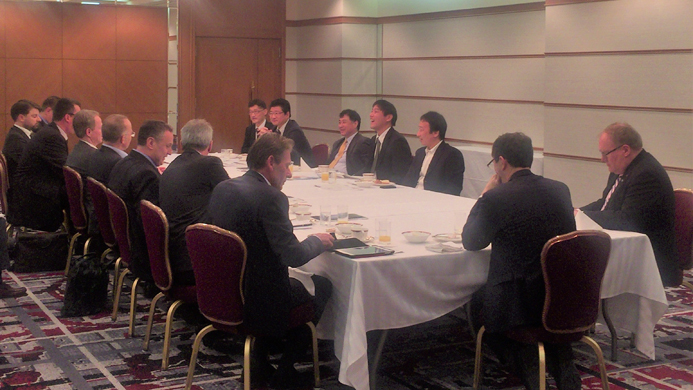 On the same day, the cities of Kobe and Hamburg signed a joint declaration for collaboration and cooperation with regards to the environment and energy. We hope that this occasion will lead to further opportunities for exchange between Kobe and Hamburg, as well as between Kobe University and universities and research institutes in Germany and the Netherlands.
(International Affairs Planning Division)