UNESCO Director for Gender Equality visits Kobe University
On April 6, UNESCO Director for Gender Equality Ms. Saniye Gülser Corat made an official visit to Kobe University President Hiroshi Takeda.
Their meeting was also attended by Mr. Kazuaki Kawabata (Director-General for International Affairs of the Ministry of Education, Culture, Sports, Science and Technology and Secretary-General of the Japanese National Commission for UNESCO), Mr. Takeo Fukui (Project Coordinator in the Section on Earth Sciences and Geo-Hazards, UNESCO), and from Kobe University, Mr. Kazunori Uchida (Vice President in Charge of Gender Equality), Professor Ronni Alexander (Director of the Gender Equality Office and a professor in the Graduate School of International Cooperation Studies) and Mr. Satoshi Tsuzuki (Head of the International Affairs Department).
The Kobe University UNESCO Chair on Gender and Vulnerability in Disaster Risk Reduction Support was adopted by UNESCO and started on April 1, 2018. This visit took place in conjunction with the UNESCO Chair Kick-off Symposium held at Kobe University in the Takigawa Memorial Hall.
The visit began with President Takeda expressing the University's aspirations for the UNESCO Chair project to Director Corat, and Executive Vice President Uchida voicing his happiness at meeting the Director once again.
Director Corat expressed her gratitude for the opportunity to visit Kobe University.
During the discussion, Ms. Corat introduced UNESCO's initiatives for gender equality, pointing out the importance of women's social advancement from the perspectives of economic growth and labor force revitalization.
She also expressed her hopes that Japan would take a leading role among the UNESCO member states in realizing these initiatives.
Kobe University, led by the Gender Equality Office, is committed to creating a gender-equal society. The new UNESCO Chair will add an international perspective to these initiatives.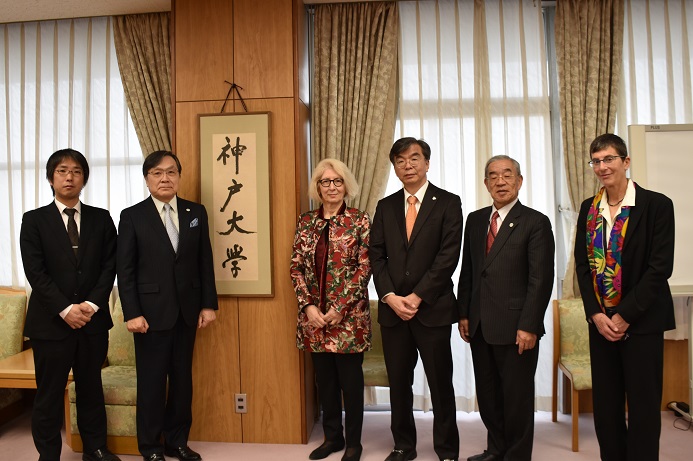 (Gender Equality Office)