New overseas base established in Shanghai
July 5, 2018
Info
Keywords: Event, International relations, Collaborations, University partnerships, Centers & facilities
On June 23, with the cooperation of Shanghai Jiao Tong University, the Kobe University and Shanghai Jiao Tong University Interdisciplinary Research Base was established. This is our eighth overseas base, following the establishment of the China Office (2008), the Brussels Office (Belgium, 2010), the Hanoi Liaison Base (Vietnam, April 2015), the Kraków Office (Poland, October 2010), the Kobe University and Beijing Foreign Studies University International Collaborative Research Base (China, October 2016), the Honolulu Office (Hawaii, July 2017) and the Kobe University and Babes-Bolyai University International Collaboration Centre (Romania, May 2018). In addition to the location within Shanghai Jiao Tong University, the Research Base is also physically located within Kobe University's Institute for Promoting International Partnerships, providing a base in Japan for Shanghai Jiao Tong University.
Founded in 1896, Shanghai Jiao Tong University is a prestigious institution with a long history that has produced many successful alumni. Our universities concluded an inter-university academic exchange agreement and a memorandum of understanding for student exchange in April 2009, and since then we have built a close partnership through research exchange and mutual dispatch of students.
The Interdisciplinary Research Base is located within the new Shanghai Jiao Tong University Center for Japanese Studies, and it was established on the same day as the opening of the Center. On June 23 the Center opening ceremony was held in combination with an international symposium commemorating 40 years of Sino-Japanese friendship. Attendees of the event included former Prime Minister of Japan Yasuo Fukuda, and former Director of the Press Office of the State Council in China, former Chairman of the Foreign Affairs Committee and the 11th Standing Committee of the CPPCC National Conference Zhao Qizheng. During the event active discussions took place about the future of the Sino-Japanese cooperative relationship under the theme of "A new era of Sino-Japanese relations and the world order".
The event was attended from Kobe University by Professor Noriyuki Inoue (Executive Vice President in Charge of International Exchange) and Professor Lin Huang (Vice-Director of the Center for Asian Academic Collaboration). They participated in the signing ceremony for the memorandum of understanding related to the new Kobe University and Shanghai Jiao Tong University Interdisciplinary Research Base, and pledged to work towards strengthening cooperation between our institutions.
We will use the Kobe University and Shanghai Jiao Tong University Interdisciplinary Research Base as a hub to strengthen cooperation in education and research with China and other Asian countries.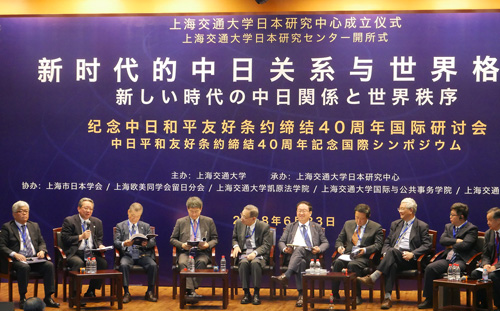 (International Affairs Planning Division)