Visit from Vietnam-Japan Human Resources Cooperation Center Management School
August 24, 2018
Info
Keywords: International relations, Business, Business management
On August 1, 24 members of the management school "Keieijuku" at the Vietnam-Japan Human Resources Cooperation Center (VJCC) visited Kobe University as part of a study trip to Japan. The VJCC is a human resources training organization established based on an agreement between the Japanese and Vietnamese governments. It is overseen by the Japan International Cooperation Agency (JICA) on the Japanese side, and Kobe University's partner institution Foreign Trade University on the Vietnamese side. The management school "Keieijuku" is a program offered by VJCC with the aim of training young business professionals who can lead Vietnam's industry in order to achieve the national goal of becoming a fully industrialized nation by 2020. The program participants are young business people, executives, and university employees in Vietnam.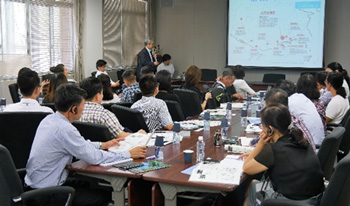 The event began with greetings and an introduction to Kobe University from Professor Matsuto Ogawa (Executive Vice President in Charge of Research and Industry-University Cooperation). This was followed by an explanation from Professor Hideto Matsuyama (Director of the Center for Membrane and Film Technology) about the efficient use of membrane technology in environment and energy-related fields, cooperation between the Center for Membrane and Film Technology and businesses, and joint research and exchange with membrane centers overseas. Finally, Project Professor Kenji Inoue (Office for Academic and Industrial Innovation) explained the framework and activities of his office, and introduced the Kobe University system for converting research outcomes into practical applications that benefit society.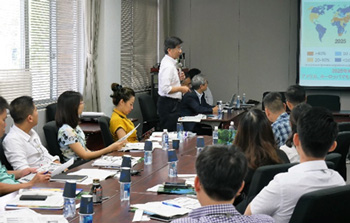 Following the presentations, an active Q&A session took place, including questions from participants about how University Research Administrators bridge the gap between research seeds and society's needs and mediate between the University and businesses.
The business course members finished their visit with a tour of Kobe University's Center for Membrane and Film Technology. We hope that this visit will lead to further developments in friendly exchange and cooperation between Vietnam and Japan.
(International Affairs Planning Division)