Professor Keiichi Ogawa was awarded the Labour Medal from the Lao Government
September 18, 2018
Info
Keywords: Info, International relations, Education
Professor Keiichi Ogawa of the Graduate School of International Cooperation Studies was awarded the Prime Minister's Labour Medal (Cross of Labor) for his leadership and significant contribution to the development of education in Lao PDR over the past fourteen years. The Minister of Education and Sports (MOES), Mrs. Sengdeuane Lachanthaboun, on behalf of the government, presented the medal to Professor Ogawa in Vientiane on September 10, 2018.
 According to the government of Lao PDR, Professor Ogawa has provided significant policy advice on higher education development, including curriculum development and the creation of education policies and plans. He has continued to work very closely with the management of the Department of Higher Education and with public universities in Laos to further build and strengthen the research capacity of academic staff.
 Professor Ogawa has also provided training courses and workshops on writing research proposals and academic papers as well as conducting data analysis for academic staff at the National University of Laos in Vientiane, Soupananouvong University in Luang Prabang Province, and Champasak University in Champassak Province.
Moreover, Professor Ogawa has conducted research on pre-primary, primary and teacher training sub-sectors in Laos, and provided policy advice through series of workshops for MOES senior and middle-level officers. He has also conducted six-week trainings on education finance and administration at Kobe University and follow-up trainings in Vientiane that have significant benefits for the Lao MOES officers to strengthen capacity on education planning.
During the award ceremony, the Education Minister expressed gratitude to and acknowledgement of Professor Ogawa's achievement over the past 14 years and offered encouragement for his continued contribution in the years to come. The ceremony was broadcast on national television and mentioned in English and Lao newspapers.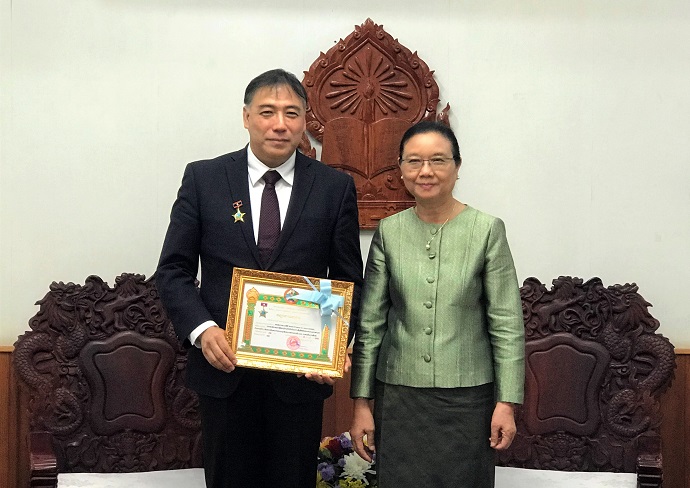 (Graduate School of International Cooperation Studies)