Academic Exchange Agreement concluded with the University of Nebraska-Lincoln
October 3, 2018
Info
Keywords: University partnerships, Natural sciences, Agriculture
On September 7, Professor Masahiko Yoshii (Vice President) visited the University of Nebraska-Lincoln. A delegation from University Nebraska-Lincoln led by Professor Steve Goddard (Associate Vice Chancellor at the time of visitation) paid a visit to Kobe University in February this year, during which both sides agreed to conclude an inter-university academic exchange agreement. The September visit provided a timely opportunity to hold a ceremony and officially exchange the agreements signed by both institutions. During the ceremony, Dr. Sonia Feigenbaum (Associate Vice Chancellor for International Engagement and Global Strategies) exchanged the documents with Executive Vice President Yoshii, and they shared a handshake.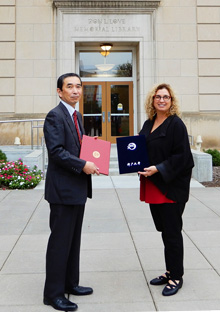 The subsequent meeting was attended by Josh Davis (Assistant Vice Chancellor for Global Engagement), Maegan Stevens-Liska (Director of the Office of Global Strategies), other members of the Office of Global Strategies, and Ms. Hisami Imagawa (Business Manager, Nebraska Center Japan). Both sides confirmed their mutual pledge to use this academic exchange agreement to strengthen our collaborative ties in order to further raise standards of education, research and internationalization. The representatives from both sides discussed the progress of researcher exchange between our institutions in preparation for the symposium to be held in November at our Honolulu Office, and Dr. Feigenbaum expressed her pleasure at the rapid progression of exchange.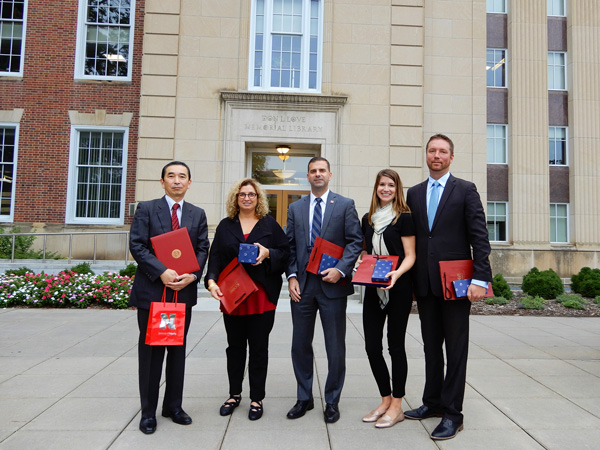 Following the lunch meeting, Vice President Yoshii received a tour of the research facilities at the Nebraska Innovation Campus. The University of Nebraska-Lincoln is located on the Corn Belt, and as such it is engaged in advanced research related to agriculture and forestry, the environment, wildlife and vegetation, and food science.
| | |
| --- | --- |
| Food Processing Center | Greenhouse Innovation Center |
(International Affairs Planning Division)