Indonesia Innovation Day held
November 1, 2018
Info
Keywords: Research, International relations, Collaborations
On October 16, Indonesia Innovation Day took place at the International Convention Center (Rokko Hall), Kobe University. This event was held with the aim of providing a forum for designated Indonesian Centers of Excellence to introduce their products to various organizations, and to strengthen collaborative relations with research and business organizations across the world. The event was co-hosted by the Ministry of Research, Technology and Higher Education of Indonesia and the Kobe University Center for Asian Academic Collaboration.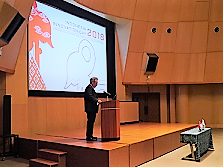 The event began with opening remarks from Professor Kiyomitsu Yui (Executive Assistant to the President in Charge of International Collaboration). This was followed by words of welcome from Mr. Mirza Nurhidayat (Consul General of the Republic of Indonesia in Osaka), and an opening speech introducing the event from Mr. Bambang Setiadi (Minister of Research, Technology and Higher Education).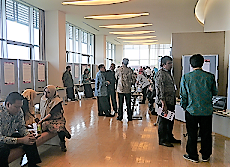 The day continued with presentations of a range of products created by Indonesian organizations. Over 100 people attended, and it was a fruitful opportunity to introduce innovative products from Indonesia to a wide audience. 
Kobe University is actively expanding exchange with Indonesia and Asia as a whole. This event contributed to a deeper understanding of Indonesia in Japan, and we look forward to further opportunities for exchange.
(International Affairs Planning Division)