9th Brussels European Centre Symposium held
November 2, 2018
Info
Keywords: Event, International relations, Collaborations, Centers & facilities
On October 24 the 9th Kobe University Brussels European Centre Symposium was held in Brussels, Belgium, under the title "Smart Cities, Secure Societies: Breakthroughs in EU and Japan Research Cooperation". The symposium was attended by over 120 people including Japanese and EU government officials, researchers, students and businesspeople.
Chaired by Professor Ken-ichi Yoshida (Executive Director of the Kobe University Brussels European Centre), the symposium opened with greetings from Professor Hiroshi Takeda (Kobe University President), Prof. Dr. Romain Meeusen (Vice-Rector for Internationalisation, Vrije Universiteit Brussel), H.E. Mr. Kazuo Kodama (Ambassador of Japan to the European Union), and Patrick Child (Deputy Director-General, DG RTD, European Commission). The opening words expressed their expectations for enhancing research collaboration between Japan and Europe.
The morning part of the symposium was organized into three breakout sessions: security issues in today's societies, smart cities, and cultural exchange between East and West. Researchers from Japan and Europe presented cutting-edge research findings and discussed the potential for future cooperation. In the afternoon each session was transformed into an intensive workshop under the same topic, providing an opportunity for more in-depth debate and discussion. Participants listened attentively and engaged in active discussions in each session.
In their closing remarks, Professor Matsuto Ogawa (Executive Vice President) and Vice-Rector Prof. Dr. Meeusen expressed their gratitude to participants and everyone involved from both institutions for a successful symposium with a large number of attendees, and their hopes for increased exchange between researchers and students in Europe and Japan.
This is the third of the Kobe University Brussels European Centre (KUBEC) annual symposia to be held jointly with Vrije Universiteit Brussel, where KUBEC is located. As part of an initiative to strengthen our bilateral ties, this year a Vrije Universiteit Brussel researcher also moderated one of the sessions.
In order to encourage student exchange, Mr. Gianpaolo Suriano (European Commission, DG EAC) was invited to hold a lunchtime seminar providing information on the new EU-Japan Joint Calls for proposals as part of the Erasmus Mundus Inter-University Exchange Project.
The day before the symposium, select members from symposium presenters, organizers and participants were joined by key figures including H. E. Mr. Akira Kono (Ambassador, Deputy Head of Mission, the Mission of Japan to the EU), members of the Mission of Georgia to the EU, JSPS Bonn and DFG, and gathered in the Brussels office to discuss future research exchange and research funding schemes. 
This symposium provided a forum for high-level information exchange on key issues shared by Japan and Europe, and as such it was highly evaluated by Japanese and European government officials as well as researchers. Kobe University will continue to use our Brussels European Centre as a base to promote increased cooperation with European in education and research.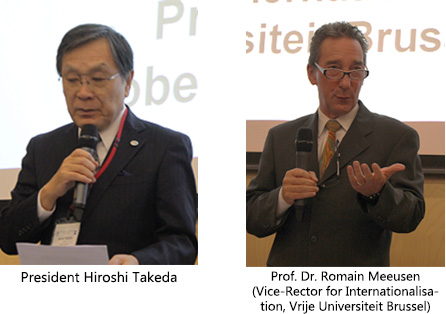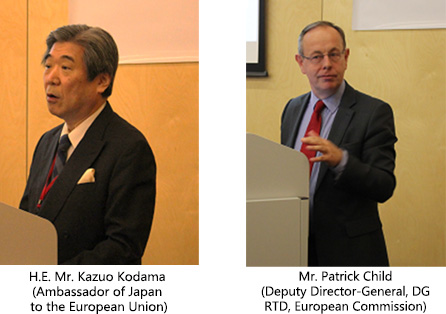 (International Affairs Planning Division)