Seminar on Japanese pop culture and Nikkei cultural practices held in Barcelona
November 2, 2018
Info
Keywords: Event, Research, International relations, Collaborations
On October 25, Kobe University held a joint seminar with Casa Asia titled "Three approaches to current Japanese culture: Pop culture, subculture and cultural practices of the Nikkei" in Barcelona, Spain.
The event opened with words of welcome from Shoji Yoshida (Director of the Japan Foundation Madrid). Under the moderation of Rafael Bueno (Politics, Society and Educational Program Director of Casa Asia) three professors spoke on the global popularity of Japan's pop culture, Nikkei cultural practices and related issues. This seminar is part of the events celebrating the 150th anniversary of the establishment of diplomatic relations between Spain and Japan, and it was attended from Kobe University by Professor Kiyomitsu Yui (Executive Assistant to the President in Charge of International Collaboration), Professor Yoshihiko Shiratori and Professor Tasuku Sasaki (both of the Graduate School of Humanities).
Students and researchers interested in Japanese culture participated in the seminar, and asked many enthusiastic questions during the Q&A time and in discussion with the presenters. This seminar confirmed the high levels of interest in Japanese culture and society among members of the Spanish public.
Casa Asia and Kobe University are engaged in a variety of international exchange activities in Kobe's sister city Barcelona, including regular joint seminars and the conclusion of an internship agreement. With the support and cooperation of Casa Asia, our University will continue to expand our academic exchange in Spain.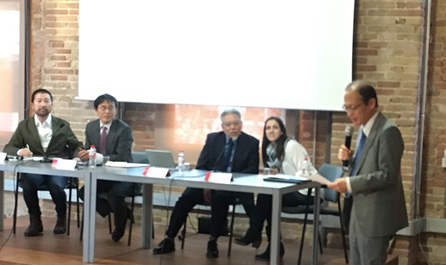 (International Affairs Planning Division)