Visit from European Commission Directorate-General for Research and Innovation
November 6, 2018
Info
Keywords: Research, International relations, Grants & funding, Centers & facilities
On October 31, a delegation led by Patrick Child (Deputy Director-General for Research and Innovation at the European Commission) visited Professor Matsuto Ogawa (Executive Vice President in Charge of Research and Industry-University Cooperation). The initial meeting was also attended from Kobe University by Professor Ken-ichi Yoshida (Executive Director of the Kobe University Brussels European Office), and Professor Katsuhiko Tomita (Senior Research Manager, Office for Academic and Industrial Innovation). Deputy Director-General Child was accompanied by Gediminas Ramanauskas (Counsellor and Head of the Science and Technology Section, EU Delegation to Japan) and Tom Kuczynski (Science and Technology Advisor, EU Delegation to Japan).
The catalyst for this visit was provided when Deputy Director-General Child gave an opening speech at the 9th Kobe University Brussels European Centre Symposium on Oct 24.
During the first meeting, Deputy Director-General Child showed a strong interest in Kobe University's active international exchange activities and presence in Brussels and Europe, and the attendees discussed how to promote future Japanese participation in European research funding schemes such as Horizon 2020 and Horizon Europe. Kobe University has concluded exchange agreements with many influential universities in Europe, and Child expressed his hopes for more active participation in European research schemes from our researchers.
Following this discussion, Professor Hisashi Tamaki (Dean of the Graduate School of System Informatics), Special Project Researcher Makoto Ohara (Office for Academic and Industrial Innovation), and Special Project Researcher Tsuyoshi Nagahiro (Office for Academic and Industrial Innovation) joined the discussion. They introduced a 3-year initiative to develop an airflow control system based on AI sensors that detect the movement of people and air currents. The project was commissioned by Japan's Ministry of Environment as a Low Carbon Technology Research and Development Program, and the technology is currently being implemented at Kobe's underground complex Santica. This project is part of the goal to transform Kobe into a smart city – one of the central themes of this year's Brussels Symposium. Project officials from Kobe city joined the discussion, and introduced the Smart City project exchanges with Kobe's sister city Barcelona.
Deputy Director-General Child then visited various research projects and facilities in Kobe city, including the above-mentioned project site "Santica" and the K computer (a Japanese supercomputer) at the RIKEN Center for Computational Science.
Kobe University, through our main European office in Brussels, will continue to strengthen collaboration with Europe in research and education.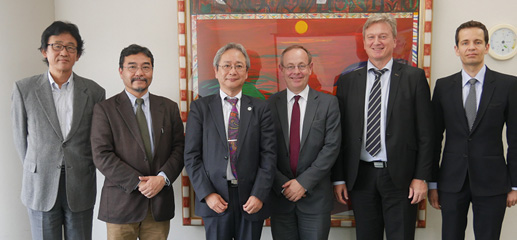 (International Affairs Planning Division)