President Takeda visits University of Oxford and signs Memorandum of Agreement with Hertford College
November 9, 2018
Info
Keywords: Event, International relations, University partnerships, Humanities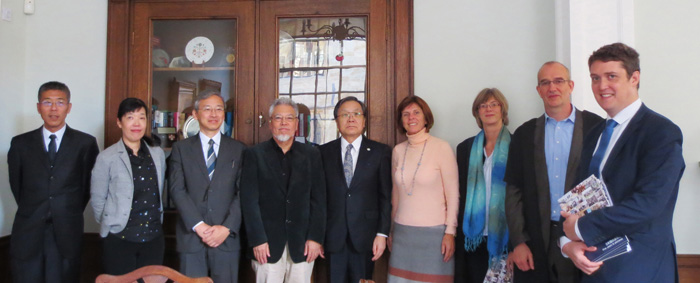 On October 22, Kobe University President Hiroshi Takeda led a delegation to the University of Oxford. The delegation comprised Kobe University members Professor Kiyomitsu Yui (Executive Assistant to the President in Charge of International Collaboration), Professor Hiroshi Okumura (Dean of the Graduate School of Humanities), Professor Hiroko Masumoto (former Dean of the Graduate School of Humanities), Mr. Satoshi Tsuzuki (Head of the International Affairs Department) and staff from the International Affairs Planning Division.
Kobe University and the University of Oxford have strong connections in research and student exchange. In 2011 both sides established the Kobe Oxford Japanese Studies Programme, under which the Kobe University Faculty of Letters accepts all second-year undergraduate students from the Japanese Studies Department, Faculty of Oriental Studies at the University of Oxford for a one-year program. Students from Kobe University attend the University of Oxford summer school every year, and our institutions also engage in researcher exchange across multiple disciplines.
The day began with a visit to Professor Louise Richardson, Vice-Chancellor of the University of Oxford. This meeting was also attended from the University of Oxford by Professor Ulrike Roesler (Chair of the Board of the Faculty of Oriental Studies), Professor Bjarke Frellesvig (Head of Japanese Studies, former Chair of the Board of the Faculty of Oriental Studies) and Mr. Craig Morley (Senior Strategy Officer, International Strategy Office). Vice-Chancellor Richardson expressed her appreciation for the Kobe Oxford Japanese Studies Program, and introduced Oxford's links with Japan. Among other topics, the participants discussed the importance of studying overseas, and ways to encourage more Japanese students to study abroad.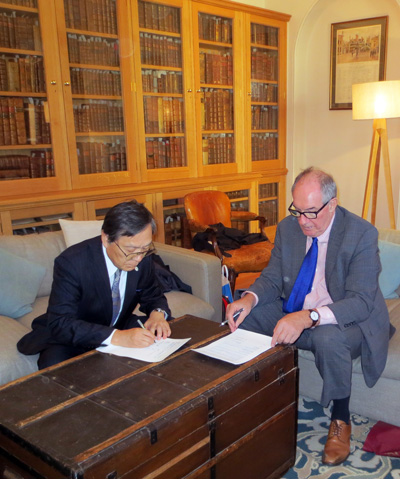 This was followed by a meeting in Hertford College with Mr. Will Hutton (Principal of Hertford College) and the group was joined by Dr. Josephine Reynell (Tutor for Visiting Students, Hertford College). The talk ranged from new developments in interdisciplinary research and university startups to the potential impact of Brexit. A signing ceremony then took place, with President Takeda and Principal Hutton renewing an agreement for academic exchange between Hertford College and Kobe University.
After the ceremony, Professor Frellesvig and Dr. Reynell gave the Kobe delegation a tour of Hertford College before a lunch meeting hosted by Professor Frellesvig. Conversation during lunch focused on the Kobe-Oxford Postdoctoral Fellowship, a new initiative to host a young researcher from the University of Oxford at the Kobe University Graduate School of Humanities.
This visit was an important occasion to reaffirm the strong ties between our institutions. We look forward to further enhancing our collaboration with the University of Oxford.
(International Affairs Planning Division)