Visit from National Polytechnic Institute of Toulouse (Toulouse INP)
November 29, 2018
Info
Keywords: Info, Natural sciences, Engineering
On November 15, Prof. Carlos Vaca-Garcia (Professor of INP-ENSIACET and Head Officer for International Relations) and Ms. Joëlle Courbières (Director of International Relations) from the National Polytechnic Institute of Toulouse (Toulouse INP) visited Prof. Akio Tomiyama (Dean of the Graduate School of Engineering). 
Founded in 1969, Toulouse INP is one of the Engineering Grandes Écoles. It is located in Haute-Garonne, part of the region of Occitanie in southern France. Approximately 6,000 students are currently enrolled there, studying at six Engineering Institutions and one veterinary school. Kobe University signed a Memorandum of Understanding for academic exchange with Toulouse INP in February 2018.
The main purpose of their visit was to discuss further student exchange and research collaboration. During the courtesy visit to Prof. Tomiyama, they had an active conversation on the possibility of joint workshops and summer school, laboratory internships. At the end of the visit, Dr. Jerome Amoah (Academic Researcher, Graduate School of Science, Technology and Innovation) guided them to the laboratories of Bioproduction Engineering and explained the research activities.
We hope this visit will encourage further exchange between our universities.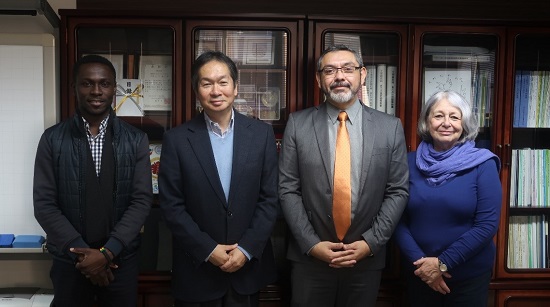 (Graduate School of Engineering/Faculty of Engineering)