Professor from Université de Liège in Belgium visits Graduate School of Engineering
November 30, 2018
Info
Keywords: Info, Natural sciences, Engineering
On November 28, Professor Aurore Richel (Full Professor and head of the Laboratory of Biomass and Green Technologies), and research assistant Quentin Schmetz, from the Université de Liège (ULg), visited the Dean of the Graduate School of Engineering Professor Akio Tomiyama. The meeting was also attended by Professor Chiaki Ogino from the Department of Chemical Science and Engineering.
ULg was founded in 1817 and is a public university. ULg has more than 20,000 students, almost a quarter of whom are international. The beginning of the academic cooperation between ULg and Kobe University dates back to 2014, and in 2015 the Graduate School of Engineering concluded an inter-faculty agreement on student exchange with the Faculty of Gembloux-Agro-bio-Tech, ULg. Since then the two institutions have enjoyed fruitful student and research exchanges.
The meeting was followed by a signing ceremony for an agreement on a cooperative research and development platform, which will also be signed by Texas A&M University at a later date. The research is led by Professor Ogino and aims to promote cooperation in the field of biomass.
During the visit we discussed exchange activities between the two institutions, and agreed that we will cooperate to develop and expand the current research exchange to other universities and obtain grants to undertake the activities.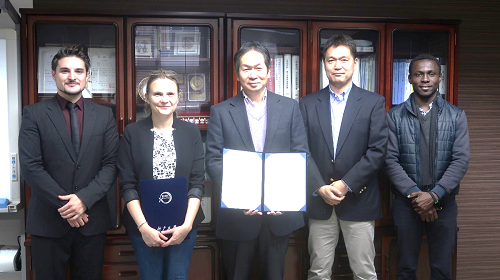 (Graduate School of Engineering/Faculty of Engineering)