Visit from Aix-Marseille University
On October 15, representatives of Aix-Marseille University Dr. Michel Dolinski (Academic Advisor for Asia and Associate Professor in Asian Studies) and Ms. Rosalind Boniface (Director of the International Cooperation Center-Directorate of International Relations) visited Kobe University to discuss expansion of exchange between our institutions. They met with Professor Kiyomitsu Yui (Executive Assistant to the President in Charge of International Collaboration), Professor Ken-ichi Yoshida (Executive Director of the Kobe University Brussels European Centre), Professor Yuki Sekine (Head of the Kobe University Center for International Education), Professor Kazunari Sakai (Graduate School of Intercultural Studies) and Professor Yoichi Matsubayashi (Graduate School of Economics).
Aix-Marseille University is a public research university founded in 1409, and the largest university in the French-speaking world. Its main campus is located in the port town of Marseille, a sister city of Kobe since 1961. Kobe University and Aix-Marseille University are actively engaged in researcher exchange within multiple areas, and we concluded an inter-university academic exchange agreement in March 2017.
During the meeting, both sides expressed their intentions to enhance the partnership by facilitating student exchange across a range of academic fields. Professor Sekine introduced Kobe University's education and support services for international students, including the Kobe University Educational Program on Current Japan and a two-week intensive Japanese language summer course for students from our partner institutions. Ms. Boniface explained the Aix-Marseille University support structure for international students, such as French-language and culture courses.
The participants engaged in a concrete discussion to expand student exchange between our institutions. They also discussed research funding and collaborative structures in Europe, including initiatives such as UnILiON, Horizon 2020 and smart cities.
We look forward to enhancing our relationship with Aix-Marseille and other institutions in France and Europe.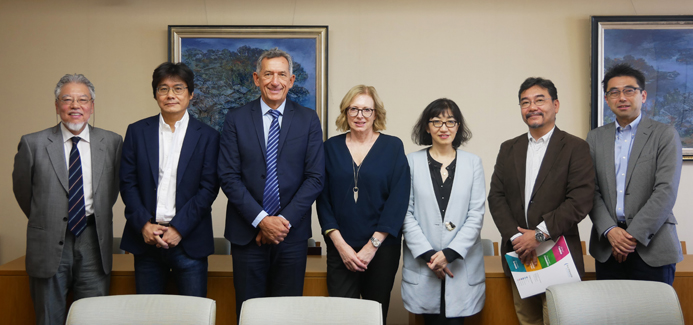 (International Affairs Planning Division)