Visit from Belgium Wallonia Foreign Trade and Investment Agency
On October 15 and 16, two representatives of the Belgium Wallonia Foreign Trade and Investment Agency (AWEX) visited Kobe University to discuss academic exchange with Belgium: Ms. Claire Ghyselen (Representative for Japan at AWEX) and Ms. Mie Fujii (Project Manager, Wallonie-Bruxelles International, AWEX).
Historically focused on business and trade, AWEX have recently widened their area of cooperation to encompass international academic collaboration, including student and researcher exchange. Kobe University has strong partnerships with Belgium institutions, including nine academic exchange agreements with universities and institutions. The Kobe University Brussels European Centre, established in 2010, is both our oldest and largest base in Europe.
The visitors first met with humanities and social sciences specialists Professor Kiyomitsu Yui (Executive Assistant to the President in Charge of International Collaboration), Professor Yuki Sekine (Head of the Kobe University Center for International Education), Professor Kazunari Sakai (Graduate School of Intercultural Studies), Professor Kazuko Iwamoto (Graduate School of Intercultural Studies) and Professor Takashi Okunishi (Graduate School of Economics). The following day, they had a meeting with members of natural science-focused departments: Professor Ken-ichi Yoshida (Graduate School of Science, Technology and Innovation, Executive Director of the Kobe University Brussels European Centre) and Professor Chiaki Ogino (Graduate School of Engineering).
During both meetings, participants discussed the University's ties with Belgium and Europe, including European studies programs such as KUPES. They also debated potential support services for Japanese students who wish to study in Belgium, such as ensuring students are informed about study and funding opportunities, establishing language support programs, and arranging summer schools or internships.
Kobe University will continue to strengthen our ties with institutions and organizations in Belgium.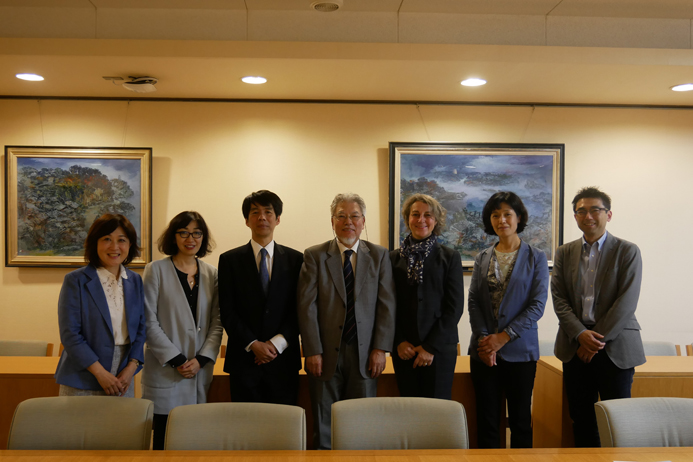 (International Affairs Planning Division)