Visit from Syiah Kuala University
December 4, 2018
Info
Keywords: International relations, Collaborations, University partnerships
On November 22, Rector of Syiah Kuala University Professor Samsul Rizal visited President Hiroshi Takeda. Rector Rizal was accompanied by Dr. Taufiq Saidi (Dean of the Engineering Faculty at Syiah Kuala University) and their meeting was also attended from Kobe University by Professor Noriyuki Inoue (Executive Vice President in Charge of International Exchange), Professor Takashi Kita (Vice Dean of the Graduate School of Engineering), Professor Shinichi Akutagawa (Graduate School of Engineering), and Professor Emeritus Yasuo Tanaka.
Kobe University concluded an inter-university academic exchange agreement in 2005 with Syiah Kuala University (based in Indonesia), and we have strengthened our partnership through active programs for researcher exchange, joint research and student mobility. The meeting began with words of welcome from President Takeda to Rector Rizal, noting the previous delegation visit from Syiah University two years ago. Rector Rizal expressed his gratitude for the many years of exchange with Kobe University's Faculty and Graduate School of Engineering, as well as research cooperation with the Research Center for Urban Safety and Security in disaster prevention, mitigation, and post-disaster reconstruction. Dean Saidi explained the program for sending Syiah Kuala University students to the Kobe University Graduate School of Engineering, and the participants discussed the development of new education programs. President Takeda and Rector Rizal also exchanged opinions on university administration, research funding strategies and funding systems in Indonesia and Japan.
It was a fruitful meeting, and we have high expectations for future developments in academic exchange with Syiah Kuala University.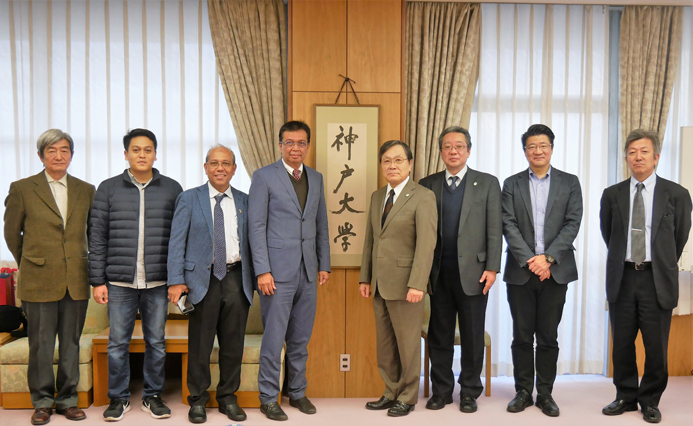 (International Affairs Planning Division)