Visit from the University of Poitiers
December 5, 2018
Info
Keywords: International relations, Collaborations, University partnerships
On December 3, a delegation from the University of Poitiers visited Kobe University President Hiroshi Takeda. President Yves Jean was accompanied by his wife and Professor Loïc Levoyer (Vice President for International Relations), and their meeting with President Takeda was also attended from Kobe University by Professor Matsuto Ogawa (Executive Vice President in Charge of Research and Industry-University Cooperation), Professor Takashi Kita (Vice Dean of the Graduate School of Engineering) and Professor Yuki Sekine (Director of the Center for International Education).
The University of Poitiers is a comprehensive public university, founded in 1431 with 27,000 students, and part of the Coimbra Group of 39 long-established European universities. The Kobe University Faculty of Law and the University of Poitiers concluded an agreement of cooperation in August 2018, and this visit aimed to discuss the possibilities for expanding cooperation to other disciplines.
After an introduction to the University of Poitiers from President Yves Jean, the participants discussed potential exchange initiatives with Kobe University's Graduate School of Engineering, particularly exchange opportunities for master's students. Professor Ogawa and Professor Kita introduced the Graduate School of Engineering departments and centers, and Professor Kita suggested a joint seminar as a possible starting point for collaboration. The Kobe University representatives also introduced the science- and engineering-focused summer schools offered for international students, and President Jean mentioned the University of Poitiers research centers and collaborations with other research and industry organizations. Both sides agreed to expand their collaborative relationship.
Following this meeting, Professor Sekine accompanied the delegation to the Graduate School of Law, where they met with Graduate School of Law professors to discuss current and future exchange initiatives.
We look forward to enhancing our partnership with the University of Poitiers based on this fruitful visit.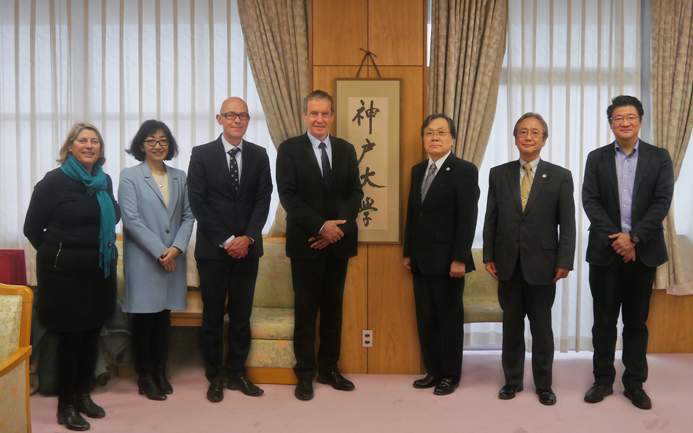 (International Affairs Planning Division)