Seminar marks third anniversary of academic exchange agreement with Academia Sinica
December 5, 2018
Info
Keywords: Event, International relations, Collaborations, University partnerships
A seminar held to commemorate the third anniversary of the academic exchange agreement between Kobe University and Academia Sinica took place on November 23 at the Academia Sinica Institute of Economics, including a lecture from Professor Fumitoshi Mizutani (Vice President of Kobe University).
Academia Sinica is Taiwan's most preeminent academic research institution. In addition to an inter-university agreement for academic exchange, the Kobe University Research Institute for Economics and Business Administration has also concluded an academic exchange agreement with the Institute of Economics of Academia Sinica.
Professor Mizutani's lecture, titled "Change and Reform of Public Utilities in Japan: Focusing on Cultural Background and Management in the Railway Industry" was attended from Kobe University by Professor Kiyomitsu Yui (Executive Assistant to the President in Charge of International Collaboration). From Academia Sinica, many graduate students and renowned academics attended, including Director of the Institute of Economics Professor Kamhon Kan. During the seminar the attendees asked insightful questions with evident enthusiasm.
Following the lecture, the Kobe University representatives visited Professor Chin-shing Huang (Vice President of Academic Sinica). Their meeting with Vice President Huang was also joined by Dr. Yijuang Chern (Director of the Academic Sinica Department of International Affairs) and there was a relaxed and optimistic atmosphere from start to finish. Both sides confirmed that we will not limit our cooperation to the humanities and social sciences, but promote exchange across a wide range of fields including the natural and biomedical sciences.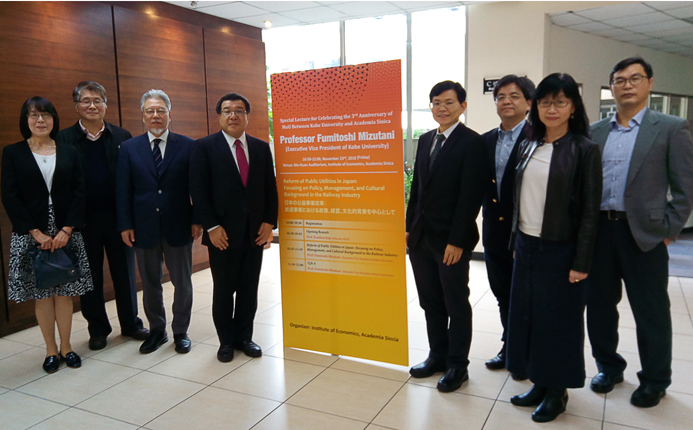 (International Affairs Planning Division)